GOOD ALL ROUNDER
6th April 1995
Page 28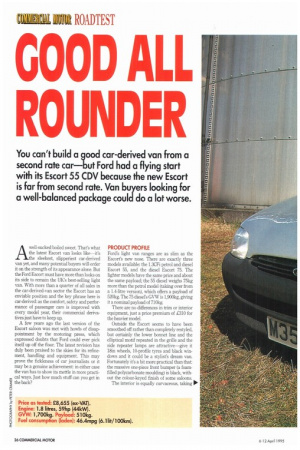 Page 28, 6th April 1995 —
GOOD ALL ROUNDER
Close
Awell-sucked boiled sweet That's what the latest Escort van looks like—it's the sleekest, slipperiest car-derived van yet, and many potential buyers will order it on the strength of its appearance alone. But the Ford Escort must have more than looks on its side to remain the UK's best-selling light van. With more than a quarter of all sales in the car-derived-van sector the Escort has an enviable position and the key phrase here is car-derived: as the comfort, safety and performance of passenger cars is improved with every model year, their commercial derivatives just have to keep up.
A few years ago the last version of the Escort saloon was met with howls of disappointrnent by the motoring press, which expressed doubts that Ford could ever pick itself up off the floor. The latest revision has duly been praised to the skies for its refinement, handling and equipment This may prove the fickleness of car journalists or it may be a genuine achievement: in either case the van has to show its mettle in more practical ways. Just how much stuff can you get in the back? PRODUCT PROFILE Ford's light van ranges are as slim as the Escort's new nose. There are exactly three models available: the 1.3CFi petrol and diesel Escort 55, and the diesel Escort 75. The lighter models have the same price and about the same payload; the 55 diesel weighs 75kg more than the petrol model (taking over from a 14-litre version), which offers a payload of 520kg. The 75 diesel's GVW is 1,900kg, giving it a nominal payload of 710kg.
There are no differences in trim or interior equipment, just a price premium of £310 for the heavier model.
Outside the Escort seems to have been smoothed off rather than completely restyled, but certainly the lower bonnet line and the elliptical motif repeated in the grille and the side repeater lamps are attractive—give it 18in wheels, 10-profile tyres and black windows and it could be a stylist's dream van. Fortunately it's a bit more practical than that: the massive one-piece front bumper (a foamfilled polycarbonate moulding) is black, without the colour-keyed finish of some saloons.
The interior is equally curvaceous, taking 1111"