Janaway Farms gets licence back
6th April 1995
Page 23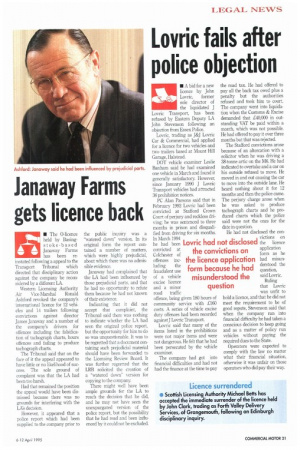 Page 23, 6th April 1995 —
Janaway Farms gets licence back
Close
• The 0-licence held by Basingstoke-based Janaway Farms has been reinstated following a appeal to the Transport Tribunal which directed that disciplinary action against the company be reconsidered by a different LA.
Western Licensing Authority Air Vice-Marshal Ronald Ashford revoked the company's international licence for 12 vehicles and 14 trailers following convictions against director James Janaway and a number of the company's drivers for offences including the falsification of tachograph charts, hours offences and failing to produce tachograph charts.
The Tribunal said that on the face of it the appeal appeared to have little or no likelihood of success. The sole ground of complaint was that the LA had been too harsh.
Had that remained the position the appeal would have been dismissed because there was no grounds for interfering with the LA's decision.
However, it appeared that a police report which had been supplied to the company prior to
6 •
the public inquiry was a "watered down" version. In its original form the report contained a number of matters, which were highly prejudicial, about which there was no admissible evidence.
Janaway had complained that the LA had been influenced by those prejudicial parts, and that he had no opportunity to refute them because he had not known of their existence.
Indicating that it did not accept that complaint, the Tribunal said there was nothing to indicate whether the LA had seen the original police report, but the opportunity for him to do so was unquestionable. It was to be regretted that a document containing such prejudicial material should have been forwarded to the Licensing Review Board. It was further regretted that the LRB solicited the creation of a "watered down" version for copying to the company.
There might well have been ample grounds for the LA to reach the decision that he did, and he may not have seen the unexpurgated version of the police report, but the possibility that he had read and been influenced by it could not be excluded.