Positive charge from hybrid
6th April 1995
Page 20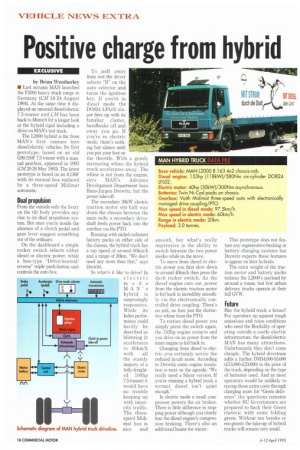 Page 20, 6th April 1995 —
Positive charge from hybrid
Close
Keywords :
Alternative Propulsion
,
Mechanical Engineering
,
Green Vehicles
,
Energy
,
Hybrid Electric Vehicle
,
Traction Motor
,
Diesel Locomotive
,
Electric Vehicle
,
Diesel Engine
,
Transmission
,
Engine Braking
,
Hybrid Vehicle
,
Environment
,
Technology / Internet
EXCLUSIVE by Brian Weatherley • Last autumn MAN launched the F2000 heavy truck range in Germany (CM 18-24 August 1994). At the same time it displayed an unusual diesel/electric 7.5-tonner and CM has been back to Munich for a longer look at the hybrid rigid including a drive on MAN's test track.
The L2000 hybrid is far from MAN's first venture into diesel/electric vehicles. Its first prototype, based on an old G90.150F 7.5-tonner with a manual gearbox, appeared in 1993 (CM 20-26May 1993). The latest prototype is based on an 8.136F with its manual box replaced by a three-speed Midimat automatic.
Dual propulsion From the outside only the livery on the tilt body provides any clue to its dual propulsion system. But once you're inside the absence of a clutch pedal and gear lever suggest something out of the ordinary.
On the dashboard a simple rocker switch selects either diesel or electric power, while a bus-type "Drive/neutral/ reverse" triple push-button unit controls the auto box. To pull away from rest the driver selects "D" on the auto selector and turns the ignition key, If you're in diesel mode the D0824 LFLO2 sixpot fires up with its familiar clatter, handbrake off and away you go. If you're in electric mode, there's nothing but silence until you put your foot on the throttle. With a gently increasing whine the hybrid truck accelerates away. The whine is not from the engine, says MAN's Advance Development Department boss Hans-Jurgen Drewitz, but the power take-off.
The secondary 30kW electric traction motor sits half way down the chassis between the main rails; a secondary driveshaft feeds power back into the autobox via the PTO.
Running with nickel cadmium battery packs on either side of the chassis, the hybrid truck has a top speed of around 60km/h and a range of 20km. "We don't need any more than that," says Drewitz.
So what's it like to drive? In electric mode MAN's hybrid is surprisingly responsive. While its laden performance could hardly he described as blistering (it accelerates to 60km/h
Automaric
transmission
with all the stately majesty of a fully-freighted 100hp 7.5-tonner) it would have no trouble keeping up with innercity traffic. The threespeed Midimat box is nice and smooth, but what's really impressive is the ability to switch between the two power modes while on the move.
To move from diesel to electric power you first slow down to around 40krnih then press the dash rocker switch. As the diesel engine cuts out, power from the electric traction motor is fed back in incredibly smoothly via the electronically controlled drive coupling. There's no jerk, no fuss just the distinctive whine from the PTO.
To restore diesel power you simply press the switch again, the 153hp engine restarts and you drive on as power from the main engine is fed back in.
Changing from diesel to electric you certainly notice the reduced in-cab noise. According to Drewitz extra engine insulation is next on the agenda; "We really need a Silent version. If you're running a hybrid truck a normal diesel isn't quiet enough."
In electric mode a small compressor powers the air brakes. There is little difference in stopping power although you clearly lose the diesel engines compression braking. There's also an additional heater for winter. This prototype does not feature any regenerative-braking or battery charging systems but Drewitz expects these features to appear on later hybrids.
The extra weight of the traction motor and battery packs reduces the L2000's payload by around a tonne, but few urban delivery trucks operate at their full (NW.
Future
Has the hybrid truck a future? For operators up against tough emissions and noise conditions who need the flexibility of operating outside a costly electric infrastructure, the diesel/electric MAN has many attractions. Unfortunately they don't come cheaply. The hybrid drivetrain adds a further DM34,000-53,000 (C15,000-.0,3,600) to the price of the truck, depending on the type of batteries used. And as most operators would be unlikely to recoup those extra costs through charging more for "Green deliveries" the questions remains whether EU Governments are prepared to back their Green rhetoric with some folding green. Without tax breaks or eco-grants the take-up of hybrid trucks will remain very small.