FS° Pick-Up gains longer warranty
6th April 1995
Page 19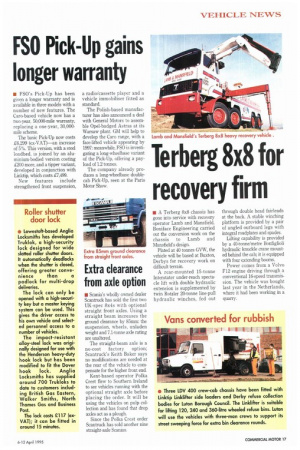 Page 19, 6th April 1995 —
FS° Pick-Up gains longer warranty
Close
FSO's Pick-Up has been given a longer warranty and is available in three models with a number of new features. The Caro-based vehicle now has a two-year, 50,000-mile warranty, replacing a one-year, 30,000. mile scheme.
The basic Pick-Up now costs £6,299 (ex-VAT)—an increase of 5%. This version, with a steel loadbed. is joined by an aluminium-bodied version costing £200 more, and a tipper variant, developed in conjunction with Linktip, which costs £7,499.
New features include strengthened front suspension, a radio/cassette player and a vehicle immobiliser fitted as standard.
The Polish-based manufacturer has also announced a deal with General Motors to assemble Opel-badged Astras at its Warsaw plant. GM will help to develop the Caro range, with a face-lifted vehicle appearing by 1997: meanwhile, FSO is investigating a long-wheelbase variant of the Pick-Up, offering a payload of 12 tonnes.
The company already produces a long-wheelbase doublecab Pick-Up, seen at the Paris Motor Show.