'City fuel' cuts smoke
6th April 1995
Page 18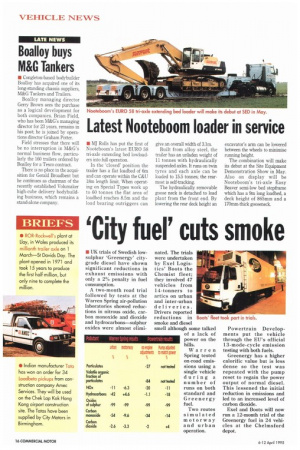 Page 18, 6th April 1995 —
'City fuel' cuts smoke
Close
• UK trials of Swedish lowsulphur `Greenergy' citygrade diesel have shown significant reductions in exhaust emissions with only a 2% penalty in fuel consumption.
A two-month road trial followed by tests at the Warren Spring air-pollution laboratories showed reductions in nitrous oxide, carbon monoxide and dioxide and hydrocarbons—sulphur oxides were almost elimi nated. The trials were undertaken by Exel Logistics' Boots the Chemist fleet; they involved 47 vehicles from 14-tonners to artics on urban and inter-urban deliveries. Drivers reported reductions in Boots' fleet smoke and diesel smell although some talked of a lack of power on the bills.
Warren Spring tested on-road emissions using a single vehicle during a number of runs on both standard and Greenergy fuel.
Two routes simulated motorway and urban operation. Powertrain Developments put the vehicle through the EU's official 13-mode-cycle emission testing with both fuels.
Greenergy has a higher calorific value but is less dense so the test was repeated with the pump reset to regain the power output of normal diesel. This lessened the initial reduction in emissions and led to an increased level of carbon dioxide.
Exel and Boots will now run a 12-month trial of the Greenergy fuel in 24 vehicles at the Chelmsford depot.