CONTRACTS
6th April 1995
Page 10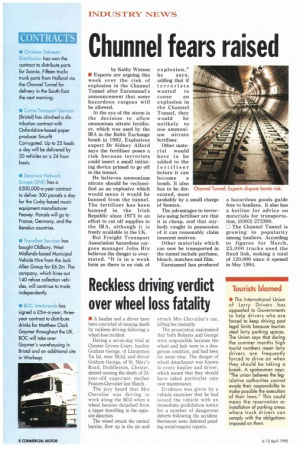 Page 10, 6th April 1995 —
CONTRACTS
Close
Keywords :
British Brands
,
Geography Of England
,
Counties Of England
,
Gaymer
,
Video Game Culture
,
Scania
,
Boc
,
Oldbury, West Midlands
,
Worksop
,
K
,
Bristol Cars
,
Manufacturing
• Christian Solvesen Distribution has won the contract to distribute parts for Scania. Fifteen trucks trunk parts from Holland via the Channel Tunnel for delivery in the South-East the next morning.
• Currie Transport Services (Bristol) has clinched a tribution contract with Oxfordshire-based paper producer Smurfit Corrugated. Up to 25 loads a day will be delivered by 20 vehicles on a 24 hour basis.
• Securicor Network Europe (SNE) has a £500,000-a-year contract to deliver 300 parcels a day for the Corby-based music equipment manufacturer Peavey. Parcels will go to France, Germany, and the Benelux countries.
• Transile: has bought Oldbury, West Midlands-based Municipal Vehicle Hire from the Jack Allen Group for £6.2m. The company, which hires out 140 refuse collection vehicles, will continue to trade independently.
• BOC In., has signed a £5m-a-year, threeyear contract to distribute drinks for Matthew Clark Gaymer throughout the UK. BOC will take over Gaymer's warehousing in Bristol and on additional site in Worksop.