Chunnel fears raised
6th April 1995
Page 10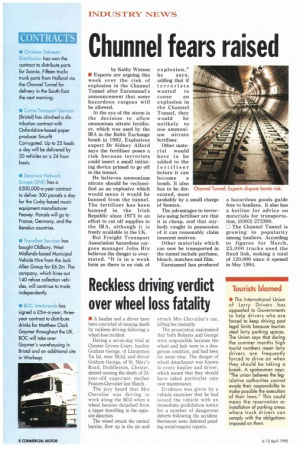 Page 10, 6th April 1995 —
Chunnel fears raised
Close
by Kathy Watson II Experts are arguing this week over the risk of explosion in the Channel Tunnel after Eurotunnel's announcement that some hazardous cargoes will be allowed.
At the eye of the storm is the decision to allow ammonium nitrate fertiliser, which was used by the IRA in the Baltic Exchange bomb in 1992. Explosives expert Dr Sidney Alford says the fertiliser poses a risk because terrorists could insert a small initiating device primed to go off in the tunnel.
He believes ammonium nitrate should be reclassified as an explosive which would mean it would be banned from the tunnel. The fertiliser has been banned in the Irish Republic since 1973 in an effort to cut off supplies to the IRA, although it is freely available in the UK.
But Freight Transport Association hazardous cargoes manager John Hix believes the danger is overstated. "It is in a weak form so there is no risk of explosion," he says, adding that if terrorists wanted to cause an explosion in the Channel Tunnel, they would be unlikely to use ammonium nitrate fertiliser.
Other material would have to be added to the fertiliser before it can become a bomb. It also has to be detonated, most probably by a small charge of Semtex.
The advantages to terrorists using fertiliser are that it is cheap, and that anybody caught in possession of it can reasonably claim innocent motives.
Other materials which can now be transported in the tunnel include perfume, bleach, matches and film.
Eurotunnel has produced a hazardous goods guide free to hauliers. It also has a hotline for advice on materials for transportation, (0303) 273300.
11-1 The Channel Tunnel is growing in popularity among hauliers. According to figures for March, 25,000 trucks used the fixed link, making a total of 120,000 since it opened in May 1994.