• ACE shows up spraygear choice and ignorance
6th April 1985
Page 28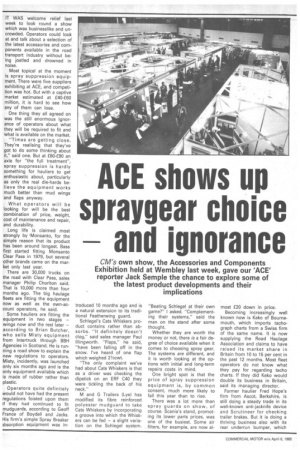 Page 29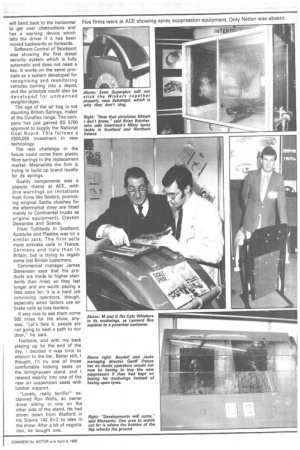 Page 28, 6th April 1985 —
• ACE shows up spraygear choice and ignorance
Close
CM's own show, the Accessories and Components Exhibition held at Wembley last week, gave our 'ACE' reporter Jack Semple the chance to explore some of the latest product developments and their implications
IT WAS welcome relief last week to look round a show which was businesslike and uncrowded. Operators could look at and talk about a selection of the latest accessories and components available in the road transport industry without being jostled and drowned in noise.
Most topical at the moment is spray suppression equipment. There were five suppliers exhibiting at ACE, and competition was hot. But with a captive market estimated at £40-£60 million, it is hard to see how any of them can lose.
One thing they all agreed on was the still enormous ignorance of operators about what they will be required to fit and what is available on the market.
"Times are getting close. They're realising that they've got to do some thinking about it," said one. But at £80-£90 an axle for "the full treatment", spray suppression is hardly something for hauliers to get enthusiastic about, particularly as only the real die-hards believe the equipment works much better than mud wings and flaps anyway.
What operators will be looking for will be the best combination of price, weight, cost of maintenance and repair, and durability.
Long life is claimed most strongly by 'Monsanto, for the simple reason that its product has been around longest. Bass first started fitting Monsanto Clear Pass in 1979, but several other brands came on the market only last year.
There are 30,000 trucks on the road with Clear Pass, sales manager Philip Chorlton said. That is 10,000 more than four months ago. The big haulage fleets are fitting the equipment now as well as the own-account operators, he said.
Some hauliers are fitting the equipment in two stages — wings now and the rest later — according to Brian Butcher, who sells Misty equipment from lntertruck through BBH Agencies in Scotland. He is running a road show to explain the new regulations to operators. Misty, incidently, was launched only six months ago and is the only equipment available which is made of rubber rather than plastic.
Operators quite definitely would not have had the present regulations foisted upon them if they had continued to fit mudguards, according to Geoff France of Boydell and Jacks. His firm's simple Spray Breaker 3bsorption equipment was in
troduced 10 months ago and is a natural extension to its traditional Featherwing guard.
Schlegel's Cats Whiskers product contains rather than absorbs. "It definitely doesn't clog," said sales manager Paul Illingworth. "Flaps," he said, "have been falling off in the snow. I've heard of one flap which weighed 21/2cwt.
"The only complaint we've had about Cats Whiskers is that as a driver was checking the dipstick on an ERF C40 they were tickling the back of his neck."
M and G Trailers (Lye) has modified its fibre reinforced polyester mudguard to take Cats Whiskers by incorporating a groove into which the Whiskers can be fed — a slight variation on the Schlegel system. "Beating Schlegel at their own game?" I asked. "Complementing their systems," said the man on the stand after some thought.
Whether they are worth the money or not, there is a fair degree of choice available when it comes to choosing spray gear. The systems are different, and it is worth looking at the options with initial and long-term repairs costs in mind.
One bright spot is that the price of spray suppression equipment is, by common consent, much more likely to fall this year than to rise.
There was a lot more than spray guards on show, of course. Scania's stand, promoting its lower parts prices, was one of the busiest. Some air filters, for example, are now al
most £20 down in price.
Becoming increasingly well known now is Keko of Bournemouth, which imports tachograph charts from a Swiss firm of the same name. It is now supplying the Road Haulage Association and claims to have raised its market share in Britain from 10 to 15 per cent in the past 12 months. Most fleet operators do not know what they pay for regarding tacho charts. If they did Keko would double its business in Britain, said its managing director.
Former haulier Fred Hope's firm from Ascot, Berkshire, is still doing a steady trade in its well-known anti-jacknife device and Scrutineer for checking trailer brakes. But it is doing a thriving business also with its rear underrun bumper, which will bend back to the horizontal to get over obstructions and has a warning device which tells the driver if it has been moved backwards or forwards.
Software Control of Stockport was showing the first diesel security system which is fully automatic and does not need a key. It works on the same principle as a system developed for recognising and monitoring vehicles coming into a depot, and the principle could also be developed for unmanned weighbridges.
The age of the air bag is not daunting British Springs, maker of the Duraflex range. The company has just gained BS 5750 approval to supply the National Coal Board. This follows a £500,000 investment in new technology.
The real challenge in the future could come from plastic fibre springs in the replacement market. Meanwhile the firm is trying to build up brand loyalty for its springs.
Quality components was a popular theme at ACE, with dire warnings on imitations from firms like Scobro, promoting original Sachs clutches for the aftermarket (they are fitted mainly to Continental trucks as original equipment), Clayton Dewandre and Scania.
From Tullibody in Scotland, Autotube and Plastics was on a similar tack. The firm sells more airbrake coils in France, Germany and Italy than in Britain, but is trying to regain some lost British customers. Commercial manager James Stevenson says that his products are made to higher standards than most, so they last longer and are worth paying a little extra for. It is a hard job convincing operators, though, especially when factors use air brake coils as loss leaders.
It was nice to see them come 500 miles for the show, anyway. "Let's face it, people are not going to beat a path to our door," he said.
Footsore, and with my back playing up by the end of the day, I decided it was time to adjourn to the bar. Better still, I thought, I'll try one of those comfortable looking seats on the Isringhausen stand, and I relaxed wearily into one of the new air suspension seats with lumbar support.
"Lovely, really terrific!" exclaimed Ron Wells, an owner driver sitting in one on the other side of the stand. He had driven down from Watford in his Scania 142 6x2 to take in the show. After a bit of negotiation, he bought one.