FAIR TRIALS FIGHTS PREJUDICE
5th September 1996
Page 8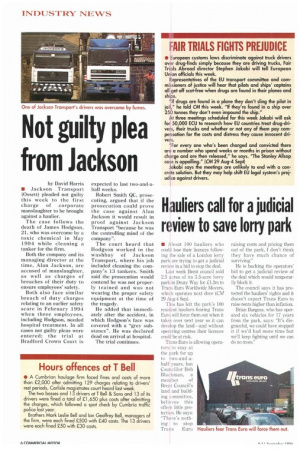 Page 8, 5th September 1996 —
FAIR TRIALS FIGHTS PREJUDICE
Close
• European customs laws discriminate against truck drivers over drug-finds simply because they are driving trucks, Fair Trials Abroad director Stephen Jakobi will tell European Union officials this week.
Representatives of the EU transport committee and commissioners of justice will hear that pilots and ships' captains all get off scot-free when drugs are found in their planes and ships.
'If drugs are found in a plane they don't sling the pilot in jail,' he told CM this week. "If they're found in a ship over 250 tonnes they don't even impound the ship." At three meetings scheduled for this week Jakob' will ask for .50,000 ECU to research how EU countries treat drug-drivers, their trucks and whether or not any of them pay compensation for the costs and distress they cause innocent drivers.
For every one who's been charged and convicted there are a number who spend weeks or months in prison without charge and are then released," he says. "The Stanley Allsop case is appalling." (CM 29 Aug-4 Sept) Jakobi says the meetings are unlikely to end with a concrete solution. But they may help shift EU legal system's prejudice aaainst drivers.