I s Mike Connally a stick-in-the-mud at the mercy of a
5th September 1996
Page 44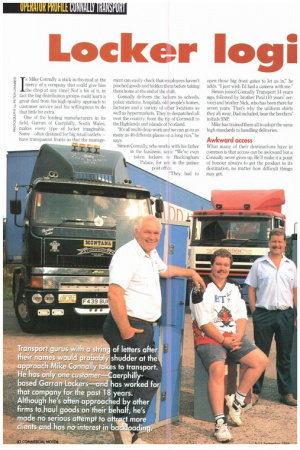 Page 45
Page 44, 5th September 1996 —
I s Mike Connally a stick-in-the-mud at the mercy of a
Close
company that could give him the chop at any time? Not a bit of it, in fact the big distribution groups could learn a great deal from his high-quality approach to customer service and his willingness to do that little bit extra.
One of the leading manufacturers in its field, Garran of Caerphilly, South Wales, makes every type of locker imaginable. Some often destined for big retail outlets— have transparent fronts so that the manage
ment can easily check that employees haven't pinched goods and hidden them before taking them home at the end of the shift.
Connally delivers the lockers to schools, police stations, hospitals, old people's homes, factories and a variety of other locations as well as hypermarkets. They're despatched all over the country, from the tip of Cornwall to the I lighlands and islands of Scotland.
"It's all multi-drop work and we can go to as many as 40 different places on a long run," he says.
Simon Connally, who works with his father in the business, says: "We've even taken lockers to Buckingham Palace, for use in the palace post office.
"They had to open those big front gates to let us in," he adds'! just wish I'd had a camera with me."
Simon joined Connally Transport 14 years ago, followed by brother Paul (10 years' service) and brother Nick, who has been there for seven years That's why the uniform shirts they all wear, Dad included, bear the brothers' initials SNP Mike has trained them all to adopt the same high standards to handling deliveries.
Awkward access
What many of their destinations have in common is that access can be awkward but a Connally never gives up. He'll make it a point of honour always to get the product to its destination, no matter how difficult things may get. If needs be, he'll park his truck two or three streets away, unload and wheel locker after locker several hundred yards on a trolley. "We wheeled them all the way across Trafalgar Square on one occasion," says Mike.
What's more, a Connally won't dump them at the gates or in the entrance hall and leave the staff to get on with it. He'll precisely position them in changing rooms, or wherever else they need to be, being careful not to damage them in the process.
"I take the view that we're ambassadors for Garran Lockers and that's how we conduct ourselves," Mike says.
"We've never had a parking ticket. If you're reasonable with traffic wardens, they'll be reasonable with you."
As a result, whoever has bought the lockers is happy and often makes a point of ringing Garran Lockers and saying so. And if you're getting that level of service from a haulier. and the price is right—and Mike knows that Garran keeps a close eye on the rate he charge,—there's little reason to switch.
"One of the reasons why I don't want to take on other w9rk is that we're not in a position to give the Same level of commitment to anybody else," Mike says. If we can't give a job 150% then IV rather not do it."
Conscientious Formerly a driver with well-known Welsh haulier John Raymond, and at one point an IIGV instructor, Mike had been hauling loads for Gamin for sometime, and had impressed the owner with his conscientious approach to tackling the task.
His fleet—dime 1}AF 95 Series and a trio of Leyland Roadtraips, all 4x2 tractors—is based in Garraris Caerphilly yard. They're all plated at 20 totnes because, surprisingly, a load of lockers doesn't weigh all that much.
"You're talking about 3 to 3.5 tonnes maximum. but of course they do take up a lot of space," says Mike. (Inc happy consequence is a typical fuel consumption of P..mpg. with 11mpg not unknown.
"Go from Caerphilly to Glasgow and you barely have to change gear," Simon says.
For several years Mike has had a policy of limiting top speed to 55mph. This, too, has helped fuel consumption, as well as minimiking wear and tear on the waons.
"It's odd the way in which we're often overtaken by supposedly speed-restricted P-registered trucks; though," he reflects.
All the tractors haul tandem-axle, bom-bodied stepframe 40ft 4mi-trailers in Garran Locken3 livery, but are taxed at £500 a .rt!ar, the higher rate that would be paid if they were pulling single-axle trailers.
"Although work with our or 26ft single-a for rural deliv says Mike. So taxed to pull it Why not got one—a Ley which is used f
"But it's not always cost-effective to use it on long-distana, deliveries," Mike says.
can handle the bulk of the f,A;ters, we really need a 24ft le trailer for London work and ies in places like Cornwall," e's had all the tractor units anticipation of its arrival.
a rigid? The Connallys have and Roadrunner 7.5 tonnerr lomi work.
Big difference
The Connallys, ;ill seem to get on well hut there's one big difference of opinion between Simon and his brothers. Simon has tc bear continued jibes about his unashamed fndness for his Leyland Roadtrain, whi h be praises for its continued reliability. Pau and Nick are confirmed DAF 95 Series fans.
But Simon rem ins defiant, so much so that he now runs (le of the few (maybe the only) customised Raadtr a ins in the UK. Fitted with side-skirts and Icheqtter plate across the top of the chassis by Advance Motors of Lit and painted in an unusual shade of deei it's graced with transfers with a Wild theme.
Simon has investigated the possibili working in the US and would like to o American truck, an ambition which pr further hoots of derision from his broth, A quotation from the Bible graces th of the vehicle, along with a stainles: grille, but the rear is devoted to praise. Cardiff Devils, an ice-hockey team. lnsi Roadtrain's cab is decorated in blue with lots of tassles.
"The whole concept was mine sketched out the transfers myself," he si certainly attracts a lot of attention fron drivers.
"In fact I'd rather drive my Roadtrai one of the new Scan i a Series. I don't 1 look of them and I don't like the idea of a bunk over the windscreen," he commt
One reason why the Connallys hay, with Leyland DAF's is the support they from local dealer Cardiff Trucks. The ship looks after all service and repair A
"We don't want to be (trawling ; under trucks after working all week, al I've had to do so in the past," says Mike
He insists on a high standard of i nance and on scrupulous adherence to vers. hours regulations. "We'll ne multi-millionaires but unlike some, w run bent," he observes.
One thing the Connallys would like the scrapping of tolls on the Severn Crc It's an additional overhead and one the well do without.
But what would happen if Garran I got taken over by a big multination decided to dispense with the Connallyt reckons that their approach would t pretty readily to furniture delivery %,s, indeed to any type of distributio required a high standard of customer
And with their professional attitu Connallys surely deserve to survive. E by Steve Banner