T he Government is thinking of impounding vehicles for those who
5th September 1996
Page 32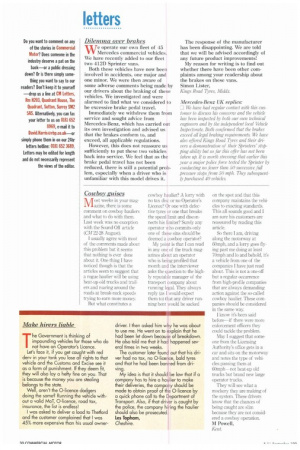 Page 32, 5th September 1996 —
T he Government is thinking of impounding vehicles for those who
Close
do not have an Operator's Licence. Let's face it, if you get caught with red dery in your tank you lose all rights to that vehicle and the Customs and Excise see it as a form of punishment. If they deem fit, they will also lay a hefty fine on you. That is because the money you are stealing belongs to the state. Well, aren't the 0-licence dodgers doing the some? Running the vehicle without a valid MoT, 0-licence, road tax, insurance, the list is endless!
I was asked to deliver a load to Thetford and the customer complained that I was .45% more expensive than his usual owner
driver. I then asked him why he was about to use me. He went on to explain that he hod been let down because of breakdown. He also told me that it had happened several times in two weeks.
The customer later found out that his driver had no tax, no 0-licence, bald tyres and that he had been banned from driving.
My idea is that it should be law that if a company has to hire a haulier to make their deliveries, the company should be made to obtain proof of the 0-licence by a quick phone call to the Department of Transport. Also, if that driver is caught by the police, the company hiring the haulier should also be prosecuted. Les Topham, Cheshire.