Nosing into world markets
5th September 1996
Page 22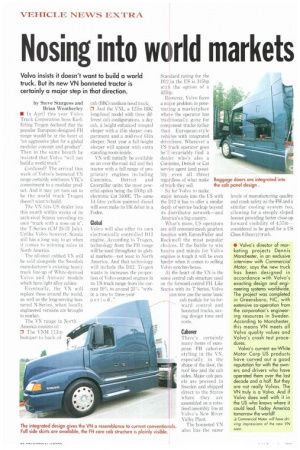 Page 22, 5th September 1996 —
Nosing into world markets
Close
by Steve Sturgess and
Brian Weatherle2; II In April this year Volvo Truck Corporation boss KarlErling Trogen declared that the popular European-designed EH range would be at the heart of "an aggressive plan for a global modular concept and product". Then in the same breath he insisted that Volvo "will not build a world truck,"
Confused? The arrival this week of Volvo's bonneted VN range certainly reinforces VTC's commitment to a modular product. And it may yet turn out to be the world truck Trogen doesn't want to build.
The VN hits US dealer lots this month within weeks of its arch-rival Scania unveiling its own ''truck with a nose on it". the 1-Series (CM 25-31 July). Unlike Volvo however, Scania still has a king way to go when it comes to winning sales in North America.
The all-steel cabbed VN will be sold alongside the Swedish manufacturer's existing heavy truck line-up of White-derived Volvo and Autocar models which have light alloy cabins.
Eventually, the VN will replace these around the world, as well as the long-serving bonneted N-Series, when locally engineered versions are brought to market.
The VN range in North America consists of: CP The VNM 113in bumper-to-back-of cab (HBC) a eclion i liiIli(' truck; CI And the VNL, a 123in 1313C long.hood model with three different cab configurations, a day cab, a height-enhanced integral sleeper with a 41in sleeper compartment and a mid-roof 61in sleeper, Next year a full-height sleeper will appear with extra standing room inside.
VN will initially be available as an over-the-road 4x2 and 6x4 tractor with a full range of proprietary engines including Cummins, Detroit and Caterpillar units; the most powerful option being the 550hp allelectronic Cat 3406E. The same 14-litre yellow-painted diesel will soon make its UK debut in a Foden.
Global
votvo will also offer its own electronically controlled 1)12 engine. According to Trogen, technology from the FH range will be used throughout its global markets—not least in North America. And that technology will include the 1)12. Trogen wants to increases the proportion of Volvo-sourced engines in its US truck range from the current 10% to around 25",, "within a two to three-year
period."
Standard rating for the 1)12 in the US is 345hp with the option of a 425h.p.
However, Volvo faces a major problem in pone. trating a marketplace where the operator has traditionally gone for component trucks rather than European-style vehicles with integrated drivelines. Wherever a US truck operator goes he'll invariably find a dealer who's also a Cummins, Detroit or Cat service agent (and possibly even all three) regardless of what make of truck they sell.
So for Volvo to make major inroads into the L'S with the 1)12 it has to offer a similar depth of service backup beyond its distributor network—and America's a big country.
What's more, US operators are still constant-mesh gearbox fanatics with Eaton/Fuller and Rockwell the most popular choices. If the battle to win hearts and minds for Volvo engines is tough it will be even harder when it comes to selling Volvo synchro boxes.
At the heart of the VN is the
same central cab structure used on the forward-control In Like Scania with its 1' Series, Volvo
can now use the same basic cab module for its forward control and bonneted trucks, saving design time and costs.
Cabover
There's certainly many items of euro. pean FH cabover styling in the VN, especially in the shape of the door, the roof line and the cab sides. Major cab panels are pressed in Sweden and shipped direct to the States where they are assembled on a robolised assembly line at Volvo's New River Valley Plant.
The bonneted VN also has the same levels of manufacturing quality and crash safety as the FH and a similar cooling system too. allowing for a steeply sloped bonnet providing better close-up forward visibility of 1.57m— considered to be good for a US Class 8 (heavy) truck.