BRIEFS
5th September 1996
Page 20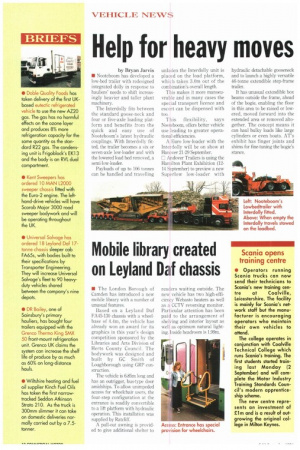 Page 20, 5th September 1996 —
BRIEFS
Close
• Doble Quality Foods has taken delivery of the first UKbased eutectic refrigerated vehicle to use the new AZ20 gas. The gas has no harmful effects on the ozone layer and produces 8% more refrigeration capacity for the same quantity as the standard R22 gas. The condensing unit is Frigoblock's EK13 and the body is an RVL dual compartment.
• Kent Sweepers has ordered 10 MAN L2000 sweeper chassis fitted with the Euro-2 engine. The lefthand-drive vehicles will have Scarab Major 3000 road sweeper bodywork and will be operating throughout the UK.
• Universal Salvage has ordered 18 Leyland Daf 17tonne chassis sleeper cab FA65s, with bodies built to their specifications by Transporter Engineering. They will increase Universal Salvage's fleet to 90 heavyduly vehicles shared between the company's nine depots.
• DR Bailey, one of Sainsbury's primary hauliers, has bought four trailers equipped with the Grenco Thermo King 5MX 50 front-mount refrigeration unit. Grenco UK claims the system can increase the shelf life of produce by as much as 60% on long-distance hauls.
• Wiltshire heating and fuel oil supplier Kinch Fuel Oils has taken the first narrowtracked Seddon Atkinson Strata 210. As the truck is 300mm slimmer it can take on domestic deliveries normally carried out by a 7.5tonner.