Electrics on Exhibition
5th September 1947
Page 51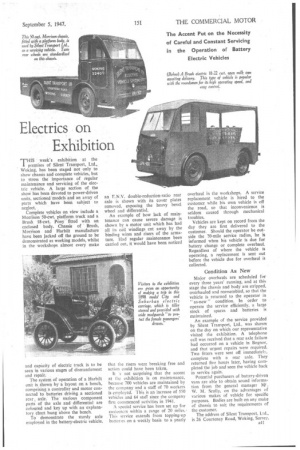 Page 51, 5th September 1947 —
Electrics on Exhibition
Close
THIS • week's exhibition at the I premises of Silent Transport, Ltd., Woking, has been staged not only to show chassis and complete vehicles, but to stress the importance of regular maintenance and servicing of the electric vehicle. A large section of the shoW has been devoted to power-driven units, sectioned 'models and an array of parts which have been subject to neglect.
Complete vehicles on view include a Morrison .50-awt platform truck and a Brush. 18-cwt. Pony 'fitted with an enclosed body. Chassis of Brush, Morrison and Harbilt manufacture have been jacked off the ground to be demonstrated as working models, whilst in the workshops almost every make
and capacity of electric truck is to be seen in various stages of dismantlement and repair.
The system of operation of a Harbilt unit is shown by a layout on a bench, comprising a controller and motor connected to batteries driving a sectioned rear axle. The various component parts of the axle and differential are coloured and key up with an explanatory chart hung above the bench.
To demonstrate the sturdy axle employed in the battery-electric vehicle, an E.N.V. double-reduction-ratio rear axle is shown with its cover plates removed, exposing the heavy bevel wheel and differential.
An example of how lack of maintenance can cause severe damage is shown by a motor unit which has had all its coil windings cut away by the binding wires and risers of the armature. Had regular maintenance been carried out, it would have been noticed that the risers were breaking free and action could have been taken.
It 's not surprising that the accent at the exhibition is on maintenance, because 700 vehicles are maintained by the company and a staff of 70 workers is employed. This is an increase of 550 vehicles and 64 staff since the company first commenced activities in 1941.
A special service has been set up for customers within a range of 20 miles.This service extends from topping-up batteries on a weekly basis. to a yearly overhaul in the workshops. A service replacement vehicle is hired to the customer while his own vehicle is off the road, so that inconvenience is seldom caused through mechanical troubles.
Vehicles are kept on record from the day they are first delivered to the customer. Should the operator be outside the 20-mile service radius, he is informed when his vehicle is due for battery change or complete overhaul. Regardless of where the vehicle is operating, a replacement is sent out before the vehicle due for overhaul is collected.
Condition As New
Major overhauls are scheduled for every three years' running, and at this stage the chassis and body are stripped, overhauled and reassembled, so that the vehicle is returned to the operator in " as-new" condition, In order to operate the service efficiently, a large stock of spares and batteries is maintained.
An example of the service provided by Silent Transport, Ltd., was shown on the day on which our representative visited the exhibition. A telephone call was received that a rear axle failure had occurred on a vehicle in Bognor, and that urgent repairs were required. Two fitters were sent off immediately, complete with a rear axle. They returned five hours later, having completed the job and seen the vehicle back in service again.
Potential purchasers of battery-driven vans are able to obtain sound information from the general manager Mr. W. M. Scully, on the advantages of various makes of vehicle for specific purposes. Bodies are built on any make of chassis to suit the requirements of the customer.
The address of Silent Transport, Ltd., is 26 Courtenay Road, Woking, Surrey. n41