NEW DYSON TRAILER A "SPECIAL" T HE Dyson chassisless trailer, exclu
5th September 1947
Page 29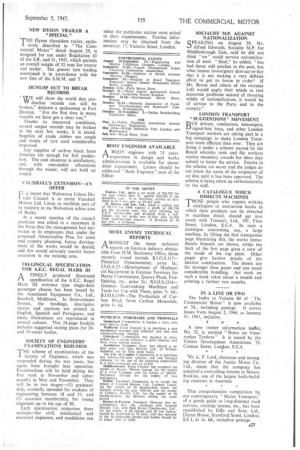 Page 29, 5th September 1947 —
NEW DYSON TRAILER A "SPECIAL" T HE Dyson chassisless trailer, exclu
Close
Keywords :
sively, described in The Commercial Motor" dated August 29, is designed for use under Regulation 63 of the S.R. and 0., 1947, which permits an overall weight of 32 tons for tractor and trailer. The greater tyre loading mentioned is in accordance with the new lists of the S.M.M. and T.
DUNLOP OUT TO BREAK RECORDS '%7E will show the world that pro VY records can still be broken," declares a spokesman at Fort Dunlop. "For the first time in many months we have got a clear run."
Thanks to improved conditions, several output records may be broken in the next few weeks, it is stated. Supplies of crude rubber are ample and stocks of tyre cord considerably improved.
July supplies of carbon black from America are enough for full production. The coal situation is satisfactory, and, with reasonable allocations through the winter, will not hold up output.
VAUXHALL'S EXTENSION—AN OFFER f T is learnt that Wolverton Urban Dis trict Council is to invite Vauxhall Motors Ltd. Luton to establish part of its industry in the Wolverton urban area of Bucks.
At a recent meeting of the council attention was called to a statement in the Press that the management had intimated to its employees that, under the proposed Abercrombie Plan for town and country planning, future development of the works would be denied, and this would seriously restrict future extension in the existing area.
TRI-LINGUAL SPECIFICATION FOR A.E.C. REGAL MARK m AFINELY produced illustrated specification of the A.E.C. Regal Mark III overseas type single-deck passenger chassis has been issued by the Associated Equipment Co., Ltd., Southall, Middlesex. In three-column format, the headings, descriptive matter and captions are printed in .English, Spanish and Portuguese, and many illustrations are reproduced in several colours. This 24-page booklet includes suggested seating plans for 24and 35-seater bodies.
SOCIETY OF ENGINEERS' EXAMINATIONS RESUMED THE scheme of examinations of the I Society of Engineers, which was suspended during the war years, has again been brought into operation. Examinations will be held during the first week in November and subsequently in May and November. They will be in two stages:—(1) graduateship, normally intended for students of engineering between 18 and 21; and (2) associate membership, for young engineers up to the age of 30.
Each examination comprises three sections—for civil, mechanical and electrical engineers, and candidates can select the particular section most suited to their requirements. Further information may be obtained from the secretary. 17, Victoria Street, London.
BODY ENGINEER AVAILABLE
rlA BODY engineer With 25 years' experience in design and works administration is available for immediate engagement. Letters should be addressed " Body Engineer," care of the Editor.
MORE ENEMY TECHNICAL REPORTS
A MONGST the many technical r't reports on German industry obtain'able from H.M. Stationery Office, those recently issued include B.I.0.S.117— Electrical Dynamometer, price is.: 7.1.0.A.25—Development of Mechanical Equipment in German Territory for Heavy Construction, Quarry Plant, Firefighting, etc., price 2s.; 1R.I.0.S.13I4-German Gear-cutting Machines and Tools for Use with Them, price 2s. 6d.; B.I.0.S.1399----The Production of Carbon Black from Carbon Monoxide, price Is. 6d.
SOCIALIST M.P. AGAINST NATIONALIZATION QPEAKING on August 29, Mr. a-, Alfred Edwards, Socialist M.P. for Middlesbrough East, said he did not think " we " could survive nationaliza
tion of steel. Steel," he added, "has had litany odd patches in the past, but what honest investigator dare say to-day that it is not making a very definite effort to put its house in .order9 If Mr. Bevan and others of the extreme Left would apply their minds to 'real economic problems instead of shouting wildly of nationalization, it would be of service to the Party and to the country."
LONDON TRANSPORT "SUGGESTIONS" MOVEMENT
BUS drivers, conductors, messengers, signal-box boys, and other London Transport workers are taking part in a big campaign to make London Transport more efficient than ever. They are doing it under a scheme started by the Board whereby rank and file workers receive monetary awards for ideas they submit to better the service. Entries in the scheme are secret and the judges do not know the name of the originator of an idea until it has been approved. The scheme is being taken up enthusiastically by the staff.
A CATALOGUE WHICH DISSECTS MACHINES THOSE people who require striking 1 catalogues or instruction books in which their products can be revealed in excellent detail, should get into touch with Transart, Ltd., 107, Fleet Street, London, E.C.4. In such a catalogue concerning, say, a large machine, by lifting the first transparent page illustrating this, the works immediately beneath are shown, whilst the back of the first page gives a view of the inside of the top plate. Other pages give further details of the interior construction. The sheets are far stronger than paper and can stand considerable handling. 'Art work on such a book takes about a month and printing a further two months.
IN A LINE OR TWO The Index to Volume 84 of Thc Commercial Motor" is now available at 7d., including postage. It covers issues from August 2, 1946, to January 31, 1947, inclusive.
A new timber Information leaflet, No, 32, is entitled "Notes on Venezuelan Timbers" It is issued by the Timber Development Association, 75, Cannon Street, Lonjon, E.C,4.
'Mr, L. P. Lord, chairman and managing director of the Austin Motor Co. Ltd., states that the company has acquired a controlling interest in Messrs. Ruskins, one of the largest body-building concerns in Australia That comprehensive compilation by our contemporary, "Motor Transport," of a goods guide to long-distance road services, clearing houses, etc., has been republished by lliffe and Sons, Ltd., Dorset House, Stamford Street, London, S.E.I, at Is. 6d., including postage. A27