How Not to Get Coal
5th September 1947
Page 23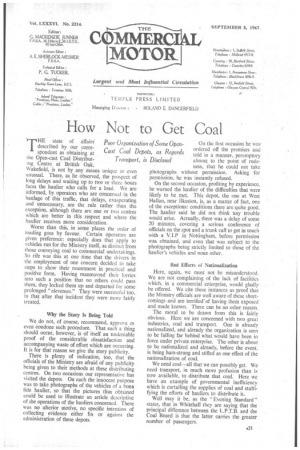 Page 23, 5th September 1947 —
How Not to Get Coal
Close
-THE state of affairi described by our correspondent as obtaining at the Open-cast Coal Distributing Centre at British Oak, Wakefield. is not by any means unique or even unusual. There, as he observed, the prospect of long delays and waiting up to two or three hours faces the haulier who calls for a load. We are informed, by operators who are concerned in the haulage of this traffic, that delays, exasperating and unnecessary, are the rule rather than the exception, although there are one or two centres which are better in this respect and where the haulier receives more consideration.
Worse than this, in some places the order of loading goes by favour. Certain operators are given preference: especially does that apply to vehicles run for the Ministry itself, as distinct from those conveying coal to commercial undertakings. So rife was this at one time that the drivers in the employment of one concern decided to take steps to show their resentment in practical and positive form. Having manceuvred their lorries into such a position that no others could pass them, they locked them up and departed for some prolonged "elevenses." They were successful too, in that after that incident they were more fairly treated.
Why the Story Is Being Told We do not, of course, recommend, approve Of even condone such procedure. That such a thing should occur, however, is of itself an undeniable proof of the considerable dissatisfaction and accompanying waste of effort which are occurring. It is for that reason we give the story publicity.
There is plenty of indication, too, that the officials of the Ministry are afraid of any publicity being given to their methods at these distributing centres. On two occasions our representative has visited the depots_ On each the innocent purpose was to take photographs of the vehicles of a bona fide haulier, so that the pictures thus obtained could be used to illustrate an article descriptive of the operations of the hauliers concerned. There was no ulterior motive, no specific intention of collecting evidence either fot or against the administration of these depots. On the first occasion he was ordered off the premises and told in a manner, peremptory almost to the point of rudeness, that he could not take photographs without permission. Asking for permission, he was instantly refused. On the second occasion, profiting by experience, he warned the haulier of the difficulties that were likely to be met. This depot, the one at West Hallan, near Ilkeston, is, as a matter of fact, one of the exceptions: conditions there are quite good. The haulier said he did not think any trouble would arise. Actually, there was a delay of some 20 minutes, covering a serious conference of officials on the spot and a trunk call to get in touch with a V.I.P in Nottingham, before permission was obtained, and even that was subject to the photographs being strictly limited to those of the haulier's vehicles and none other.
Bad Effects of Nationalization Here, again, we must not be misunderstood. We are not complaining of the lack of facilities which, in a commercial enterprise, would gladly be offered. We cite these instances as proof that the Ministry officials are well aware of these shortcomings and are terrified' of having them exposed and made known. There can be no other reason.
The moral to be drawn from this is fairly obvious. Here we are concerned with two great industries, coal and transport. One is already nationalized, and already the organization is seen to be falling far behind what would have been in force under private enterprise. The other is about to be nationalized and already, before the event, is being ham-strung and stifled as one effect of the nationalization of coal.
• We need coal—all that we can possibly get. We need transport, in much more profusion than is now available, to distribute that coal. Here we have an example of governmental inefficiency which is curtailing the supplies of coal and stultifying the efforts of hauliers to distribute it. Well may it be, as the "Evening Standard" states, that in Whitehall they are saying that the principal difference between the L.P.T.B. and the Coal Board is that the latter carries the greater number of passengers.