Members' Duty to the Public U NDER seven headings. Mr. W.
5th November 1948
Page 53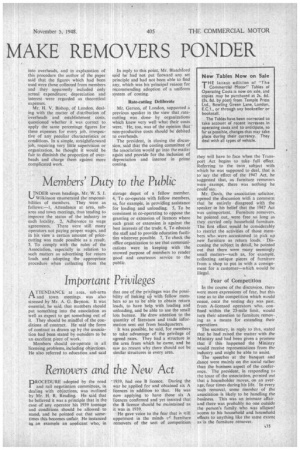 Page 53, 5th November 1948 —
Members' Duty to the Public U NDER seven headings. Mr. W.
Close
S. J. Wilkinson enumerated the responsibilities of members. They were as follows:-1, Attendance at area, subarea and town meetings, thusiending to improve the status of the industry ire each locality. 2, Adherence to wage agreements. There were still many operators not paying proper wages, and in his view a certain amount of pricecutting was made possible as a result. 3. To comply with the rules of the Association, especially in relation to such matters as advertising for return loads and adopting the appropriate procedure when collecting from the
storage depot of a fellow member. 4, To co-operate with fellow members, as, for example, in providing assistance for loading and unloading. 5, To be consistent in co-operating to oppose the granting or extension of licences where such grant or extension is against the best interests of the trade. 6, To educate the staff and to provide education facilities wherever possible. 7, To check the office organization to see that communications were in keeping with the avowed purpose of members to render good and courteous service to the public.