Important Privileges A TTENDANCE at area, sub-area and town meetings was
5th November 1948
Page 53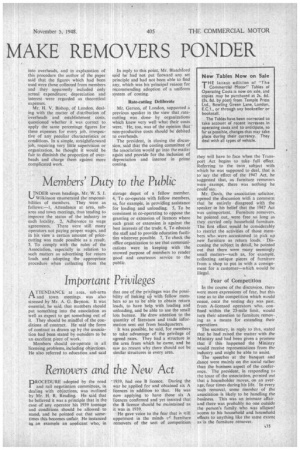 Page 53, 5th November 1948 —
Important Privileges A TTENDANCE at area, sub-area and town meetings was
Close
Keywords :
also stressed by Mr. A. G. Beynon. It was essential, he said, that members should put something into the association as well as expect to get something out of it. They should be mindful of the conditions of contract. He said the form of contract as drawn up by the association had been stated by outsiders to be an excellent piece of work.
Members should co-operate in all licensing problems, including objections. He also referred to education and said that one of the privileges was the possibility of linking up with fellow members so as to be able to obtain return loads, to have help with loading and unloading, and be able to use the small lots bureau. He drew attention to the quantity of literature and trade information sent out from headquarters.
It was possible, he said, for members to take advantage of the privilege of agreed rates. They had a structure in the area from which he came, and he saw no reason why there should not be similar structures in every area.