COSTS AND LAW MAKE REMOVERS PONDER
5th November 1948
Page 52
Page 53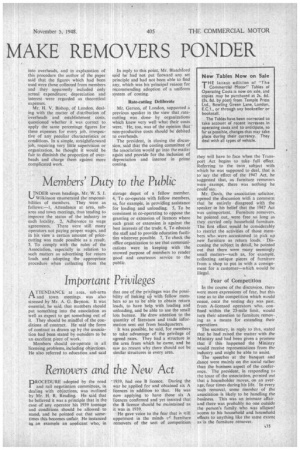 Page 52, 5th November 1948 —
COSTS AND LAW MAKE REMOVERS PONDER
Close
PAPERS read at the Southport conference of the National Association of Furniture Warehousemen and Removers were arranged in pairs. At the first session, Mr. E. G. Wright and Mr. W. E. Blatchford dealt with the two principal aspects of operating costs. Mr. Wright concerned himself with prime cost, which, being freely interpreted, means vehicle operating cost. Mr. Blatchford dealt with "on costs," to which the more resounding title of "The Importance of Accurate Costing of Establishment, Administrative and .0 v er head Charges" was given.
Mr. W. S..1. Wilkinson and Mr. H. G. Beynon, who read the next pair, concerned themselves with what might be described as domestic matters, their papers being entitled "Responsibility to the Public to Fellow Members and to Employees" and "Privileges of Membership" respectively.
The third and concluding session, whilst it comprised a pair of subjects, was left in the sole charge of Mr. H. R. Reading, who dealt with "Licensing Procedure and the Transport Act, 1947."
The conference was well attended and the organizers, members of the North-Western Area of the Association, are to be complimented on the efficiency of their work. non-productive. Nevertheless, it was often necessary to work overtime and statistics showed that the percentage was from 10 to 15.
Turning to running costs, he ventured the opinion that the amount spent on the vehicle in the first place did not affect the result to any appreciable extent. The more costly vehicle is likely to have a longer life and cost less to maintain than a machine which was not so expensive in the first place. Mr. Wright showed that the relation between staff costs and vehicle costs were in the proportion of approximately five to four. Giving some figures for total costs, he pointed out that these were subject to the addition of a percentage for overheads, establishment costs, and profit, before the furniture remover has arrived at a figure which he should charge for his removals. In conclusion, he suggested that it was, nevertheless, impracticable to lay down any hard-and-fast rules or to arrange for a national schedule of rates.