AUSTRALIAN OPERATOR CRITICIZES HYDRAULIC BRAKES
5th November 1948
Page 48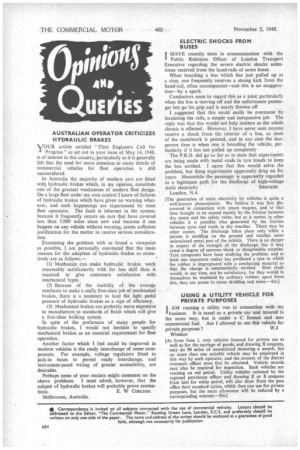 Page 48, 5th November 1948 —
AUSTRALIAN OPERATOR CRITICIZES HYDRAULIC BRAKES
Close
TOUR article entitled "Fleet Engineers Call for
Progress" as set out in your issue of May 14, 1948, is of interest in this country, particularly as it is generally felt that the need for more attention to many details of commercial vehicles for fleet operation is still unconsidered.
In Australia the majority of modern cars are fitted with hydraulic brakes which, in my opinion, constitute one of the greatest weaknesses of modern fleet design. On a large fleet under my own control I know of failures of hydraulic brakes which have given no warning whatever, and such happenings are experienced by most fleet operators. The fault is inherent in the system; because it frequently occurs on cars that have covered less than 5,000 miles since new and because it can happen on any vehicle without warning, seems sufficient justification for the matter to receive serious consideration.
Examining the problem with as broad a viewpoint as possible, I am personally convinced that the main reasons for the adoption of hydraulic brakes so extenLively are as follows:—
(I) Mechanics can make hydraulic brakes work reasonably satisfactorily with far less skill than. is required to give customers satisfaction with mechanical *types.
(2) Because of the inability of the average mechanic to make a really first-class job of mechanical brakes, there is a tendency to laud the light pedal pressure of hydraulic brakes as a sign of efficiency.
(3) Mechanical brakes are probably more expensive to manufacture to standards of finish which will give a first-class braking system.
In spite of the preference of many people for hydraulic brakes, I would not hesitate to specify mechanical brakes as an essential requirement for fleet operation.
Another factor which I feel could be improved in modern vehicles is the ready interchange of some components. For example, voltage regulators fitted to jack-in bases to permit ready interchange, and instrument-panel wiring of greater accessibility, are desirable.
Perhaps some of your readers might comment on the above problems. I must admit, however, that the subject of hydraulic brakes will probably prove conten
tious. E. W CORLESS. Melbourne, Australia.
ELECTRIC SHOCKS FROM BUSES
I HAVE recently been in communication with the A Public Relations Officer of London Transport Executive regarding the severe electric shocks sometimes received from the hand-rails of some buses. .
When boarding a bus which has just pulled up at a stop, one frequently receives a strong kick from the hand-rail, often accompanied—and this is no exaggeration—by a spark.
Conductors seem to regard this as a joke,' particularly when the bus is moving off and the unfortunate passenger lets go his grip and is nearly thrown off I suggested that this could easily be overcome by insulating the rails, a simple and inexpensive job. The reply was that this would not help matters as the whole chassis is affected. However, I have never seen anyone receive a shock from the interior of a bus, as most of the metalwork is painted, and in any case the dangerous time is when one is boarding the vehicle, particularly if it has not pulled up completely The P.R.O. did go 'so far as to state that experiments are being made with metal studs in tyre treads to keep the bus earthed. I agree that this would solve the problem, but these experiments apparently drag on for years. Meanwhile the passenger is apparently regarded as a legitimate path for the discharge of high-voltage
static electricity SHOCKED London, N.4.
[The generation of static electricity by vehicles is quite a well-known phenomenon. We believe it was first discovered in connection with steam wagons, and at that time thought to be caused mainly by the friction between dry steam and the safety valve, but as it occurs in other vehicles it is possibly also generated by the friction between tyres and roads in dry weather. There may be other causes. The discharge takes place only when a person is standing on the ground and touches some uninsulated metal part of the vehicle. There is no danger in respect of the strength of the discharge, but it may cause a degree of nervous shock or disagreeable surprise. Tyre companies have been studying the problem, and at least one important maker has produced a tyre in which the rubber is impregnated with a conducting material so that the charge is automatically • earthed. Steel studs would, in our view, not be satisfactory, for they would in themselves be insulated by ordinary rubber; apart from this, they are prone to cause skidding and noise.—En.]
USING A UTILITY VEHICLE FOR PRIVATE PURPOSES
I AM running a utility van in connection with my 'business It is taxed as a private car and insured in the same way, but is under a C licence and uses commercial fuel. Am I allowed to use this vehicle for private purposes ? W.3
, Windsor
[As from June 1, only vehicles licensed for private use as well as for the carriage of goods, and drawing X coupons, may do 90 miles of unrestricted motoring a month, but no more than one suitable vehicle may be employed in this way by each operator, and the consent of the district transport officer must first be obtained. Vehicle records may also be required for inspection. Such vehicles are running on red petrol. Utility vehicles rationed by the regional petroleumofficer and drawing E or S coupons from him for white petrol, will also draw from the post office their standard ration, which they can use for private purposes, but the main allowance will be reduced by a corresponding amount.—ED.]