Van Bodies Maintained
5th November 1948
Page 47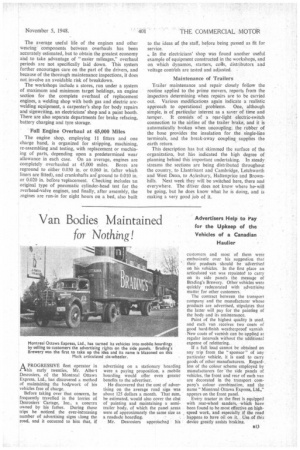 Page 47, 5th November 1948 —
Van Bodies Maintained
Close
for Nothing!
APROGRESSIVE fleet operator in his early twenties, Mr. Albe-t Desrosiers, of the Montreal Ottawa Express. Ltd., has discovered a method of maintaining the bocbjwork of his vehicles free of charge.
Before taking over that concern, he frequently travelled in the lorries of Desrosiers Cartage, Inc.. a concern owned by his father. During those trips he noticed the ever-increasing number of advertising signs along the road, and it occurred to him that, if
advertising on a stationary hoarding were a paying proposition, a mobile hoarding would offer even greater benefits to the advertiser.
He discovered that the cost of advertising on the average road sign was about 125 dollars a month. That sum, he estimated, would also cover the cost of painting and maintaining a semitrailer body, of which the panel areas were of approximately the same size as a roadside hoarding,
Mr. Desrosiers approached his
customers and most of them were enthusiastic over his suggestion that their products • should be adVertised on his vehicles. In the first place an articulated van was repainted to carry on its side panels the message of Brading's Brewery. Other vehicles were quickly redecorated with advertising matter for other customers.
The contract between the transport company and the manufacturer whose products are advertised, stipulates that the latter will pay for the painting of the body and its maintenance.
Paint of the highest quality is used. and each van receives two coats of good hard-finish weatherproof varnish • New coats of varnish can be applied at regular intervals without the additional expense of relettering.
If a full load cannot be obtained on any trip from the " sponsor " of any particular vehicle, it is used to carry goods of other manufacturers. Regardless of the colour scheme employed by manufacturers for -the side panels of vehicles, the front and rear of each van are decorated in the transport company's colour combination, and the name " Montreal Ottawa Express, Ltd.," appears on the front panel.
Every tractor in the fleet is equipped with rear-wheel sanders, which have been found to be most effective on highspeed work, and especially if the road happens to have oil on it, Use of thia device greatly assists braking.