Specialized Transport for the Window Cleaner
5th November 1948
Page 38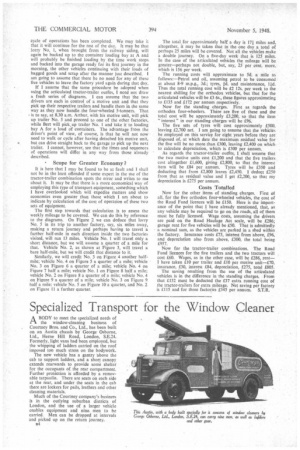 Page 38, 5th November 1948 —
Specialized Transport for the Window Cleaner
Close
ABODY to meet the specialized needs of the window-cleaning business of Courtney Bros. and Co., Ltd., has been built on an Austin chassis by George Osborne, Ltd., Herne Hill Road, London, S.E.24. Formerly, light vans had been employed, but the whipping of ladders carried on the roof imposed ton much stress on the bodywork.
The new vehicle has a gantry 'above the cab to support ladders, and a short canopy extends rearwards to provide some shelter for the occupants of the rear compartment. Further protection is afforded by a removable tarpaulin. There are seats on each side at the rear, and under the seats in the cab there are lockers for pails, leathers and other cleaning materials.
Much of the Courtney company's business is in the outlying suburban districts of London, and the use of a larger vehicle enables equipment and nine, men to be carried. Men can be dropped at intervals and picked up on the return journey.
e4