The Latest Crime :
5th November 1948
Page 35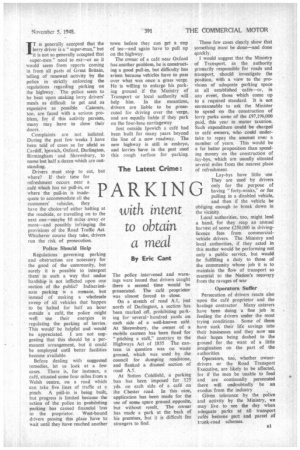 Page 36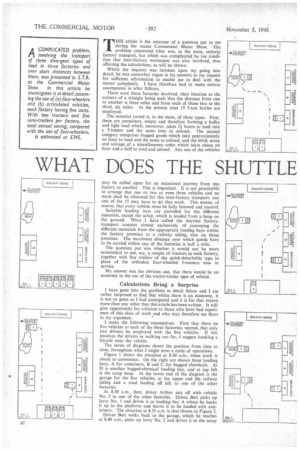 Page 37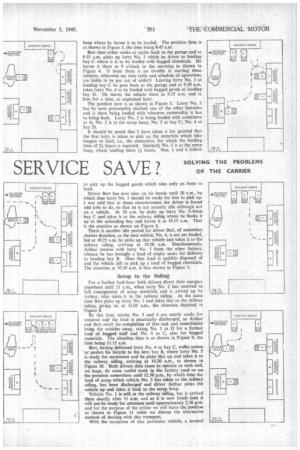 Page 35, 5th November 1948 —
The Latest Crime :
Close
ARKING
with intent to obtain a meal
By Eric Cant
The police intervened and warnings were issued that drivers caught there a second time would be prosecuted. The cafe proprietor was almost forced to close.
On a stretch of road Al, just north of Darlington, a section has been marked off, prohibiting parking for several hundred yards on each side of a well-known café At Shrewsbury, the owner of a mobile canteen has been fined for "pitching a stall," contrary to the Highways Act of 1835 The canteen in question was on waste around, which was used by the council for dumping roadstorie, and flanked a disused section of road A.5.
At Sutton Coldlield, a parking ban has been imposed for 125 ■ .,•cls. on each side of a café on the Chester road In this case, application has been made for the use of some spare ground opposite, but without result, The owner has made a park at the back of his premises, but it is difficult for strangers to find.
IT is generally accepted that the lorry driver is a " super-man," but it is not so generally accepted that super-men" need to eat—or so it would seem from reports coming in from all parts of Great Britain, telling of renewed activity by the police in strictly enforcing the regulations regarding parking on the highway. The police seem to be bent upon making lorry drivers' meals as difficult to get and as expensive as possible. Caterers, too, are faced with a serious problem, for if this activity persists, many may have to close their doors.
Complaints are not isolated. During the past few weeks I have been told of cases as far afield as Cardiff, Ipswich, Oxford, Darlington, Birmingham 'and Shrewsbury, to name but half a dozen which are outstanding.
Drivers must stop to eat, but where? If their time for refreshment occurs near a café which has no pull-in, or where the pull-in is inade quate to accommodate all the customers' vehicles, they have the choice of either halting at the roadside, or travelling on to the next one—maybe 10 miles away or more—and possibly infringing the provisions of the Road Traffic Act. Whichever course they take, drivers run the risk of prosecution.
Police Should Help
Regulations governing parking and obstruction are necessary for the good of the community, but surely it is possible to interpret them in such a way that undue hardship is not inflicted upon one section of the public? Indiscriminate parking is a menace, but instead of making a wholesale sweep of all vehicles that happen to be halted for half an hour outside a café, the police might well use their energies in regulating the parking of lorries. This would be helpful and would be appreciated. I am not suggesting that this should be a permanent arrangement, but it could be employed until better facilities become available.
Before dealing with suggested remedies, let us look at a few cases. There is, for instance, a café, situated some four miles from a Welsh centre, on a road which can take five lines of traffic at a pinch. A pull-in is being built, but progress is limited because the action of the police in prohibiting parking has caused financial loss to the proprietor. West-bound drivers passing this place have to wait until they have reached another town before they can get a cup of tea—and again have to pull up on the highway.
The owner of a café near Oxford has another problem, he is constructing a good pull-in, but difficulty has arisen because vehicles have to pass over what was once a grass verge. He is willing to enlarge his parking ground if the Ministry of Transport or local authority will help him. In the meantime, drivers are liable to be prosecuted for driving over the verge, and are equally liable if they park on the four-lane carriageway
Just outside Ipswich a café had been built for many years beyond the line of a new roadway. The new highway is still in embryo, and lorries have in the past used this rough surface for parking. These few cases clearly show that something must be done—and done quickly.
I would suggest that the Ministry of Transport. as the authority primarily responsible for roads and transport. should investigate the position, with a view to the provision of adequate parking space at all established cafés—or, in any event, those which come up to a required standard. It is not unreasonable to ask the Minister to spend on the construction of lorry parks some of the £97,196,000 paid, this year in motor taxation. Such expenditure could be charged to café owners, who could undertake to repay the amount over a number of years. This would be a far better proposition than spending money on the construction of lay-bys, which are usually situated several miles from the nearest place of refreshment.
Lay-bys have little use They are used by drivers only for the purpose of having "forty-winks," or for pulling in a disabled vehicle, and then if the vehicle be obliging enough to break down in the vicinity.
Local authorities, too, might lend a hand, for they reap an annual harvest of some £250,000 in drivinglicence fees from commercialvehicle drivers. The Ministry and local authorities, if they acted in this matter would be performing not only a public service, but would be fulfilling a duty to those of the community whose job it is to maintain the flow of transport SO essential to the Nation's recovery from the ravages of war Operators Suffer Persecution of drivers reacts also upon the cafe proprietor and the haulage contractor Many caterers have been doing a fine job in feeding the drivers under the most trying conditions. Some of them have sunk their life savings into their businesses and they now see their hopes being dashed to the ground for the want of a little imagination on the part of the uthorities.
Operators, too, whether ownerdrivers or the Road Transport Executive, are likely to be affected, for if the men be unable to feed and are continually persecuted there will undoubtedly be an exodus from the industry Given tolerance by the police and activity by the Ministry, we may live to see the day when adequate parks at all transport cafés become part and parcel of trunk-road schemes.
THIS article is the outcome of a question put to me during the recent Commercial Motor Show. The problem concerned what was, in the main, entirely factory transport, but which was complicated by tne condition that inter-factory movement was also involved, thus affecting the calculations, as will be shown.
Whilst the inquirer was insistent upon my going into detail, he was somewhat vague in his answers to my request for sufficient information to enable me to deal with the matter completely. I have therefore had to make certain assumptions in what follows.
There were three factories involved, their location at the corners of a triangle being such that the distance from one to another is three miles and from each of those two to the third, six miles. At the present time 15 5-ton lorries are employed.
The material carted is. in the main, of three types. First, there are containers, empty and therefore forming a bulky and light load which, moreover, takes 2i hours to load into a 5-tonner and the same time to unload. The second category comprises bagged goods which take approximately an hour to load and the same to unload, and the third, scrap and salvage of a miscellaneous order which takes about an hour and a 6alf to load and unload. Any one of the vehicles heap where he leaves it to be loaded The position then is as shown in Figure 3, the time being 8.45 a.m.
Bert then either walks or cycles back to the garage and at 8.55 a.m, picks up lorry No. 3 which he drives to loading bay C where it is to be loaded with bagged chemicals. He leaves it there at 9 o'clock in the morning as shown in Figure 4. tl hope there is no trouble in starting these vehicles, otherwise my time table and schedule of operations are liable to be put out of order!) Leaving lorry No. 3 at loading bay C he goes back to the garage and at 9.10 a.m. takes lorry No, 4 to be loaded with bagged goods at loading bay D. He leaves the vehicle there at 9.15 a.m. and is free for a time, as explained later.
The position now is as shown in Figure 5. Lorry No. 5 has by now presumably reached one of the other factories and is there being loaded with whatever commodity it has to bring back. Lorry No. 1 is being loaded with containers at A; No. 2 is at the scrap heap; No. 3 at bay C; No. 4 at bay D.
It should be noted that I have taken it for granted that the first lorry is taken to pick up the materials which take longest to load, i.e., the containers, for which the loading time of 21 hours is required. Similarly No. 2 is at the scrap heap, where loading takes 11 hours. Nos. 3 and 4 follow