Ball and Roller Bearings "Made" Modern Commercial Vehicles
5th November 1948
Page 33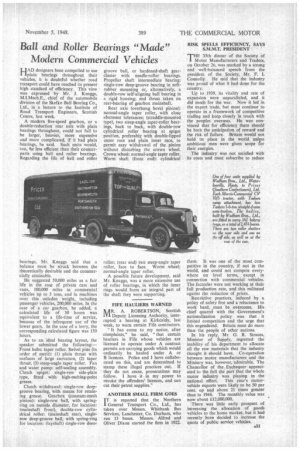 Page 33, 5th November 1948 —
Ball and Roller Bearings "Made" Modern Commercial Vehicles
Close
HAD designers been compelled to use plain bearings throughout their vehicles, it is doubtful whether road transport could have reached its present high standard of efficiency, This view was expressed by Mr. I. Knaggs, M.I.Mech.E., chief of the automobile division of the Skefko Ball Bearing Co., Ltd., in a lecture to the Institute of Road Transport Engineers, Scottish Centre, last week.
A modern five-speed gearbox, or a double-reduction rear axle with plain bearings throughout, could not fail to be larger, heavier, more expensive and more complicated, if it had plain bearings, he said. Such units would, too, be less efficient than their counterparts using ball and roller bearings. Regarding the life of ball and roller bearings, Mr. Knaggs said that a balance must be struck between the theoretically desirable and the commercially attainable.
He suggested 50,000 miles as a fair life in the case of private cars and vans, 100,000 miles in commercial vehicles up to 3 tons, and in machines over this unladen weight, including passenger vehicles, 200,000 miles. In the case of a car gearbox, he added, a calculated life of 30 hours was equivalent to a life-time of service, because of the infrequent use of the lower gears. In the case of a lorry, the corresponding calculated figure was 150 hours.
As to an ideal bearing layout, the speaker submitted the following:— Front hubs: taper roller. Swivel pins (in order of merit): (1) plain thrust with surfaces of large curvature, (2) taper thrust, (3) steep-angle taper roller. Fan and water pump: self-sealing assembly. Clutch spigot: single-row side-plate type, fitted with high-melting-point grease.
Clutch withdrawal: single-row deepgroove bearing, with means for retaining grease. Gearbox (constant-mesh pinion): single-row ball, with springring on outside diameter, for location: (mainshaft front), double-row cylindrical roller: (rnainshaft rear), singlerow deep-groove ball, with spring-ring for location: (layshaft) single-row deeo
groove ball, or hardened-shaft gearcluster with needle-roller bearings. Propeller shaft intermediate bearing; single-row deep-groove bearing in softrubber mounting or, alternatively, a double-row self-aligning bail bearing in a rigid housing; end thrust taken on rear-bearing of gearbox rnainshaft.
Rear axle (overhung bevel pinion): normal-angle taper roller, with close abutment tolerances; (straddle-mounted type), two steep-angle taper-roller bearings, back to back, with double-row cylindrical roller bearing at spigot position, preferably with double-tipped outer race and plain inner race, to permit easy withdrawal of the pinion without disturbing the crown wheel. Crown wheel: normal-angle taper roller. Worm shaft (front end): cylindrical roller; (rear end) two steep-angle taper roller, face to face. Worm wheel: normal-angle taper roller.
A possible future development, said Mr. Knaggs, was a more extensive use of roller bearings, in which the inner rings would form an integral part of the shaft they were supporting.
FIFE HAULIERS WARNED
AR. A. ROBERTSON, Scottish IVi Deputy Licensing Authority, interrupted a hearing at Kirkcaldy, last week, to warn certain Fife contractors.
"It has come to my notice, after complaints," he said, "that certain hauliers in Fife whose vehicles are licensed to operate under A contract permits are carrying goods which would ordinarily be hauled under A or B licences. Police and I have collaborated on this, and are determined to stamp these illegal practices out. If they do not cease, prosecutions may follow. I have it in my power to revoke the offenders' licences, and can cut their petrol supplies."
ANOTHER SMALL FIRM GOES IT is reported that the Northern General Transport Co., Ltd., has taken over Messrs. Whitbank Bus Services, Lanchester, Co. Durham, who run 13 buses. Messrs. Alfred and Oliver Dixon started the firm in 1922. RISK SPELLS EFFICIENCY, SAYS , S.M.M.T. PRESIDENT
THE 15th dinner of the Society Of Motor Manufacturers and Traders, on October 26, was marked by a strong and • well-balanced speech from the president of the Society, Mr. F. L Connolly. He said that the industry was proud of what it had done for the country.
Up to 1939, its vitality and rate of expansion were unparalleled, and it did much for the war. Now it led in the export trade, but must continue to operate in a framework of competitive trading and keep closely in touch with the peoples overseas. He was convinced that for efficiency there should be both the anticipation of reward and the risk of failure. Britain would not hold its place in the world unless ambitious men were given scope for their energies.
The industry was not satisfied with its costs and must subscribe to reduce them. It was one of the most competitive in the country, if not in the world, and could not compete everywhere on level terms, except in connection with commercial vehicles. The factories were not working at their full production rate, and this militated against the reduction of prices.
Restrictive practices, induced by a policy of safety first and a reluctance to work hard, ,must be overcome. His chief quarrel with the Government's nationalization policy was that it limited competition and the urge that this engendered. Britain must do more than the people of other nations.
In his reply, Mr. G. R. Strauss, Minister of Supply, regretted the inability of his department to allocate all the raw materials that the industry thought it should have. Co-operation between motor manufacturers and the Ministry was, however, admirable. The Chancellor of the Exchequer appreciated to the full the part that the whole motor industry was playing in the national effort. This year's motorvehicle exports were likely to be 50 per cent, up and about 2; times greater than in 1946. The monthly value was now about £12,000,000.
There was little early prospect of increasing the allocation of goods vehicles to the home market, but it had recently been decided to increase the quota of public service vehicles.