PERSONAL PARS '
5th November 1948
Page 30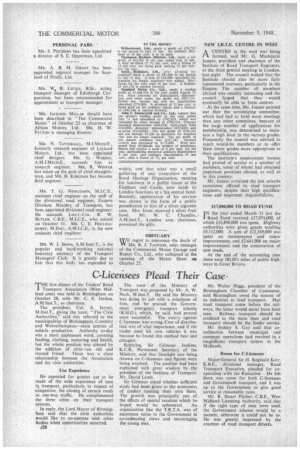 Page 30, 5th November 1948 —
PERSONAL PARS '
Close
MR. J. PITCHERS has been appointed a director of S. E. Opperman, Ltd.
MR. A. B. M. GRasrr has been appointed regional manager for Scotland of Pirelli, Ltd.
MR. W, B. Ltszt_E, B.Sc., acting transport manager of Edinburgh Corporation, has been recommended for appointment as transport manager.
• MR. JACKSON MILLAR should have been described in "The Commercial Motor" of October 22 as chairman of 'Albion Motors, Ltd. MR. H. W. FtittoN is managing director.
MR. N. TATTERSALL,
formerly research engineer of Leyland Motors, Ltd., has been appointed chief designer. Ma. G. WARING, A.M.I.MEat.E., succeeds him as research engineer. MR. R. WINTER has taken up the post of chief draughtsman. and MR. H. KIRKHAM has become field engineer.
MR. T. G. NEWCOMEN, TvI.I.C.E., assistant chief engineer on the staff of the divisional road engineer, Eastern Division. Ministry of Transport, has been appointed divisional road engineer. He succeeds LtEus.-CoL. R. W. BUTLER, C.B.E., M.I.C.E., who retired on October 31. MR. C. E. HOU !NGHURST, MENG., A.M.I.C.E., is the new assistant chief engineer.
MR. W. J. IRoNs, A.M.INsr.T" is the popular and hard-working national honorary secretary of the Transport Managers' Club: It is greatly due to him that this body has expanded so
widely. and that what was .a small gathering of unit controllers of the Road Haulage Organization, meeting for luncheon in a public house at the Elephant and Castle, now holds its London functions at a big central hotel. Recently. appfeciation of his services was shown in the form of a public presentation to him of a silver cigarette case. Mrs. Irons received a silver fruit bowl. Mr. W. C. Chandler, A.M.1nst.T.. London area chairman. presented the gifts,
OBITUARY
WE regret to announce the death of vr, MR. R. J. TAvt.rroN, sales manager of the Commercial Motor Garage and Repair Co., Ltd., who collapsed at the opening of the Motor Show on October 27.