Those Square Dimensions
5th November 1948
Page 25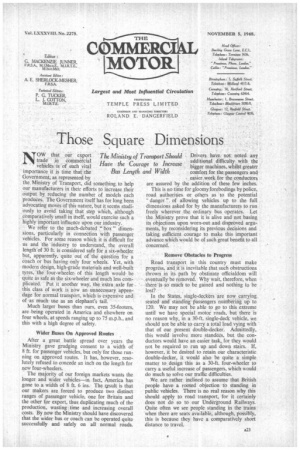 Page 26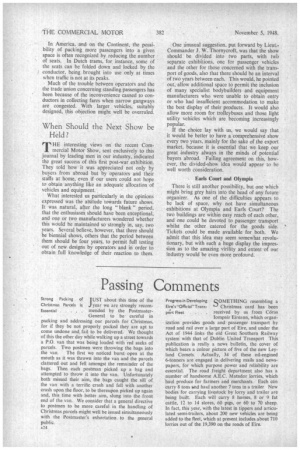 Page 25, 5th November 1948 —
Those Square Dimensions
Close
vehicles is. of such vital t [-mile he Cour 'TOW that our expert The Mitj Wry of trade in commercial . yr importance it is time that the Bus Length Government; as represented by • the. Ministry of Transport, did something, to help our manufacturers in their efforts to increase their output by reducing the number of models each produces. The Government itself has for long been advocating moves of this nature, but it seems studiously to avoid taking that step which, although comparatively small in itself, would exercise such a highly important influence upon our industry. We refer to the much-debated " box " dimensions. particularly in connection with passenger vehicles. For some reason which it is difficult for us and the industry to understand, the overall length Of 30 ft. is considered safe for a six-wheeler but, apparently, quite out of the question for a coach or bus having only four wheels. Yet, with modern design, high-grade materials and well-built tyres, the four-wheeler. of this length would' be quite as safe as the six-wheeler and much less complicated. Put it another way, the extra axle for this class of work is now an unnecessary appendage for normal transport, which is expensive and of as much use as an elephant's tail.
Much larger buses than ours, even 35-footers, are being operated in America and elsewhere on four wheels, at speeds ranging up to 75 m.p.h., and this with a high degree of safety.
Wider Buses On Approved Routes After a great battle spread over years the Ministry, gave grudging consent to a width of 8 ft. for passenger vehicles, but only for those running on approved routes. It has, however, resolutely refused to concede an inch on the length for new four-wheelers.
The majority of our foreign markets wants the longer and wider vehicles—in fact, America has gone to a width of 8 ft. 6 ins. The rtsult is that our makers are forced to produce two distinct ranges of passenger vehicle, one for Britain and the other for export, thus duplicating much of the production, wasting time and increasing overall costs. By now the Ministry should have discovered that the wider bus or coach can be operated quite successfully and safely on all normal roads. Transport Should Drivers have not noted any additional difficulty with the age to increase bigger machines. whilst greater and Width comfort for the passengers and easier .work for the conductors are assured by the addition of these few inches. This is no time for gloomy forebodings by police, road authorities or others as to the potential "danger " of allowing vehicles up to the full dimensions asked for by the manufacturers to run freely wherever the ordinary bus operates. Let the Ministry prove that it is alive and not basing its objections upon worn-out and disproved arguments, by reconsidering its previous decisions and taking sufficient courage to make this important advance which would be of such great benefit to all concerned.
Remove Obstacles to Progress Road transport in this country must make progress, and it ii inevitable that such obstructions thrown in its path by obstinate officialdom will eventually be removed. Why wait, therefore, when there'is so much to be gained and nothing to be lost? , In the States, single-deckers are now carrying seated and standing Passengers numbering up to 120. We may not be able to go to this extreme until we have special motor roads, but there is no reason why, in a 30-ft. single-deck vehicle, we should not be able to carry a total load vying with that of our present double-decker. Admittedly, this would involve more standees, but the conductors would have an easier task, for they would not be required to run up and down stairs. If, however, it be desired to retain our characteristic double-decker. it would also be quite a simple matter to design this as a 30-ft. four-wheeler to carry a useful increase of passengers, which would do much to solve our traffic difficulties.
We are rather inclined to assume that British people have a rooted objection to standing in public vehicles. There is no real reason why this should apply to road transport, for it certainly does not do so to our Underground Railways. Quite often we see people standing in the trains 'when there are seats available, although, possibly, this is because they have a comparatively short distance to travel. In America, and on the Continent, the possibility of packing more passengers into a given space is often recognized by reducing the number of seats. In Dutch trams, for instance, some of the seats can be folded down and locked by the r conductor, being brought into use only at times when traffic is not at its peaks.
• Much of the trouble between operators and the the trade union concerning standing passengers has been because of the inconvenience caused to conductors in collecting fares when narrow gangways are congested. With larger vehicles, suitably designed, this objection might well be overruled.
When Should the Next Show be Held ?
THE interesting views on the recent Commercial Motor Show, sent exclusively to this journal by leading men in our industry, indicated the great success of this first post-war exhibition. They told how it was appreciated not only by buyers from abroad but by operators and their staffs at home, even if our users could not hope to obtain anything like an adequate allocation of vehicles and equipment.
What interested us particularly in the opinions expressed was the attitude towards future shows. It was natural, after the long " blank " period, that the enthusiasm should have been exceptional, and one or two manufacturers wondered whether this would be maintained so strongly in, say, two years, Several believe, however, that there should be biennial shows, others that the period between them should be four years, to permit full testing out of new designs by operators and in order to obtain full knowledge of their reaction to them. One Unusual suggestion, put forward by Lieut.Commander J. W. Thornycroft, was that the show should be divided into two parts, with twb separate exhibitions, one for passenger vehicles and the other for those concerned with the transport of goods, also that there should be an interval of two years between each. This would, he pointed out, allow additional space to permit the inclusion of many specialist bodybuilders and equipment manufacturers who were unable to obtain entry or who had insufficient accommodation to make the best display of their products. It would also allow more room for trolleybuses and those light utility vehicles which are becoming increasingly popular.
If the choice lay with us, we would say that it would be better to have a comprehensive show every two years, mainly for the sake of the export market, because it is essential that we keep our great industry always in the minds of potential buyers abroad. Failing agreement on this, however, the divided-show idea would appear to be well worth consideration.
Earls Court and Olympia There is still another possibility, but one which might bring grey hairs into the head of any future organizer. As one of the difficulties appears to be lack of space, why not have simultaneous exhibitions at Olympia and Earls Court? The two buildings are within easy reach of each other, and one could be devoted to passenger transport whilst the other catered for the goods side. Tickets could be made available for both. We admit that this idea may seem somewhat revolutionary, but with such a huge display the impression as to the amazing virility and extent of our industry would be even more profound.