Notes on the Government Road Haulage Scheme
5th June 1942
Page 18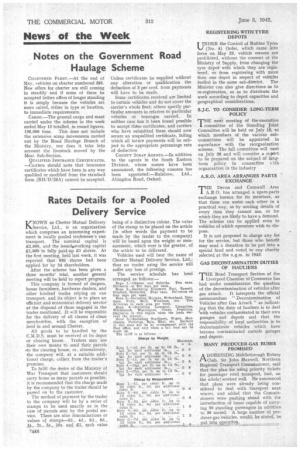 Page 18, 5th June 1942 —
Notes on the Government Road Haulage Scheme
Close
CHARTERED FLEET.—At the end of May, vehicles on charter numbered 358. New offers for charter are still coming in steadily and if some of these be accepted before offers of longer standing it is simply because the vehicles are more suited, either in type or location, to immediate requirements.
CARGO.—The general cargo and meat carried under the scheme in the week ended May 15 totalled, in round figures, 136,000 tons. This does not include the extensive scrap movements carried out by the Road Haulage Branch of the Ministry, nor does it take into account the livestock moved by the Meat Sub-Section,
QUALIFIED INSURANCE CERTIFICATES. —Carriers should note that insurance certificates which have been in any way qualified or modified from the standard form .(RH/D/25A) cannot be accepted.
Unless certificates be supplied without any alteration or qualification the deduction of 3 per cent, from payments will have to be made.
Some certificates received are limited to certain vehicles and do not cover the carrier's whole fleet; others specify particular amounts in relation to particular vehicles or tonnages carried. In neither case has it been found possible to accept these certificates, and carriers who have submitted them should now secure an unqualified certificate, failing which all future payments will be subject to the appropriate percentage rate of deduction COUNTY SCRAP AGENTS.—In addition to the agents in the South Eastern Division, whose names have been announced, the following concern has been appointed:—Rainbow, Ltd., Abingdon Road, Oxford.