One Hears
5th June 1942
Page 17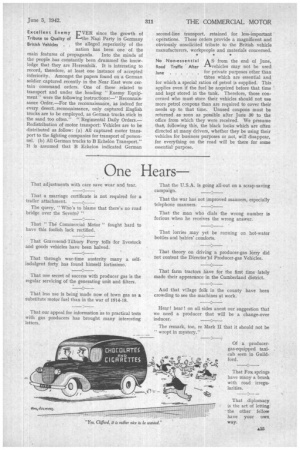 Page 17, 5th June 1942 —
One Hears
Close
That adjustments with care save wear and tear.
That a marriage certificate is not required for a trailer attachment
The query, "Who's to blame that there's no road bridge over the Severn? "
That " Th6 Commercial Motor" fought bard to have this foolish lack rectified.
That Gravesend-Tilbury Ferry tolls for livestock and goods vehicles have been halved.
That through war-time austerity many a selfindulgent forty has found himself fortissimo.
That one secret of success with producer gas is the regular servicing of the generating unit and filters.
That less use is being made now of town gas as substitute motor fuel than in the war of 1914-18.
That our appeal for information as to practical tests with gas producers has brought many interesting letters. That the U.S.A. is going all-out on a scrap-saving campaign.
That the war has not improved manners, especially telephone manners.
That the man who dials the wrong number is furious when he receives the wrong answer.
That lorries may yet be running on hot-water bottles and babies' comforts.
That theory on driving a producer-gas lorry did not content the Directortif Producer-gas Vehicles.
That farm tractors have for the first time lately made their appearance in the Cumberland district.
And that village folk in the county have been
a crowding to see the machines at work.
Hear ! hear! on all sides anent our "suggestion that we need a producer that will be a change-over inducer.
The remark, too, re Mark II that it should not be " wropt in mystery."
Of a producergas-equipped taxicab seen in Guild ford.
That Fox springs have many a brush with road irregularities.
That diplomacy is the art of letting the other fellow have your own. way.