Utility ready to play it long on Europe
5th July 2001
Page 14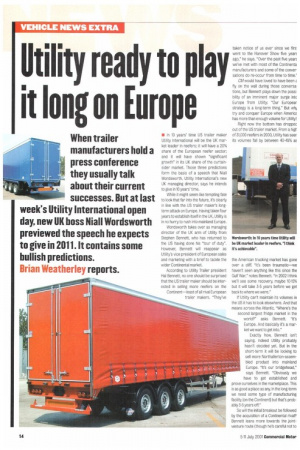 Page 15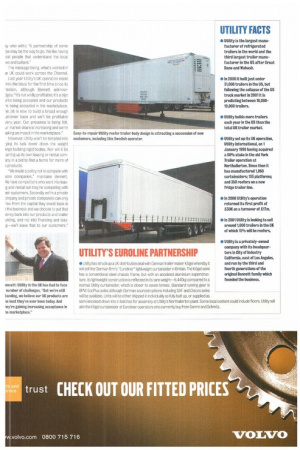 Page 14, 5th July 2001 —
Utility ready to play it long on Europe
Close
When trailer manufacturers hold a press conference they usually talk about their current successes. But at last week's Utility International open day, new UK boss Niall Wordsworth previewed the speech he expects to give in 2011.1t contains some bullish predictions.
Brian Weatherley reports.
MI in 10 years time US trailer maker Utility International will be the UK market leader in reefers; it will have a 20% share of the European reefer sector; and it will have shown "significant growth" in its UK share of the curtainEider market. Those three predictions form the basis of a speech that Nig Wordsworth, Utility International's new UK managing director, says he intends to give in 10 years' time.
While it might seem like tempting fate to look that far into the future, it's clearly in line with the US trailer maker's longterm attack on Europe. Having taken four years to establish itself in the UK, Utility is in no hurry to rush into mainland Europe.
Wordsworth takes over as managing director of the UK arm of Unity from Stephen Bennett, who has returned to the US having done his "tour of duty". However, Bennett will reappear as Utility's vice president of European sales and marketing with a brief to tackle the wider Continental market.
According to Utility Trailer president Hal Bennett, no one should be surprised that the US trailer maker should be interested in selling more reefers on the Continent—least of all rival European trailer makers. "They've taken notice of us ever since we firs went to the Hanover Show five yeart ago," he says. "Over the past five yeart we've met with most of the Continenta manufacturers and some of the conver sations do re-occur from time to time.'
CM would have loved to have been fly on the wall during those conversa. tions, but Bennett plays down the possi. bitity of an imminent major surge intc Europe from Utility: "Our Europear strategy is a long-term thing." But whl try and conquer Europe when AmericE has more than enough volume for Utility!: Right now the bottom has droppec out of the US trailer market. From a higt of 31,000 reefers in 2000, Utility has seer its volumes fall by between 40-45% as the American trucking market has gone over a cliff. "It's been traumatic—we haven't seen anything like this since the Gulf War," notes Bennett. "In 2002 I think well see some recovery, maybe 10-15% but it will take 3-5 years before we get back to where we were."
If Utility can't maintain its volumes in the US it has to look elsewhere. And that means across the Atlantic, 'Where's the second largest fridge market in the world?" asks Bennett. "It's Europe. And basically it's a market we want to get into."
Exactly how, Bennett isn't saying. Indeed Utility probably hasn't decided yet. But in the short-term it will be looking to sell more Northallerton-assembled product into mainland Europe. "It's our bridgehead," says Bennett. "Obviously we have to get established and prove ourselves in the marketplace. This is as good a place as any. In the long-term we need some type of manufacturing facility [on the Continent] but that's probably 3-5 years off."
So will the initial breakout be followed by the acquisition of a Continental rival? Sennett leans more towards the jointventure route (though he's careful not to ty who with): "A partnership of some pe may be the way to go. We like having cal people that understand the local ws and culture."
The message being, what's worked in le UK could work across the Channel. Last year Utility's UK operation made into the black for the first time since its -eation, although Bennett acknowliges: "It's not wildly profitable: it's a sign e're being accepted and our products -e being accepted in the marketplace. le job is now to build a broad enough istomer base and well be profitable very year. Our presence is being felt. Lir market share is increasing and we're 'eking an impact in the marketplace." However, Utility won't be tempted into 'ying its luck lower down the weight Inge building rigid bodies. Nor will it be sarting up its own leasing or rental cornany in a bid to find a home for more of 3 products.
"We made a policy not to compete with Use companies," maintains Bennett. Aie have competitors who went into leasg and rental but they're competing with ieir customers. Secondly we're a private Dmpany and private companies can only mw from the capital they invest back in ) the business and we choose to put that ioney back into our products and trailer uilding, and not into financing and leasg—we'll leave that to our customers."