ONE HEARS
5th July 1921
Page 3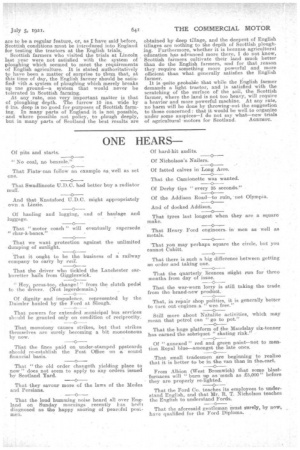 Page 3, 5th July 1921 —
ONE HEARS
Close
Of pits and starts.
"No coal, no benzole."
That Fiats-can follow an example as well as set one.
That Swadlincote U.D.C. had better buy a radiator muff.
And that Knutsford U.D.C. might appropriately own. a Lizzie.
Of hauling and lugging, and of haulage and luggage.
That "motor coach" will eventually supersede " char-&-banes."
That it ought to be the business company to carry by rail. of a railway That the driver who tickled the Lanehester carburetter hails from Giggleswick.
" Hey, press-toe, change! " from the clutch pedal to the driver. (Not legerdemain.) Of dignity and impudence, represented by the Daimler hauled by the Ford at Slough.
That powers for extended municipal bus services sliculd be granted only on condition of reciprocity.
That monotony causes strikes, but that strikes themselves are surely becoming a bit monotonous by now.
That. the fines paid on under-stamped ppstcards should re-establish the Post Office on a sound financial basis.
That "the old order changeth new " does not seem to apply to by Scotland 'Yard. yielding place to any orders issued That they savour more of the laws of the Medes and Persians.
That the loud humming noise heard all over England on Sunday mornings recently has beet diagnosed as the happy snoring of peacaful postmen. Of hard-hit audits.
Of Nicholson's Nailers.
Of fatted calves in Long Acre.
That the Oarnionette was wanted.
Of Derby tips "every 35 seconds."
Of the Addison Road—to nun, not Olympia.
And of docked Addison.
That tyres last longest when they are a square make.
That Henry. Ford engineers-. in men as well as metals.
That you may perhaps square the circle, but you cannot Cubitt.
That there is such a big difference between getting an order and taking one.
That the quarterly licences Might run for three months from day of issue.
That the war-worn lorry is still taking the trade from the brand-new product.
That, in repair shop politics, it is generally better , to turn out engines a wee free."
Still more about Natalite activities, which may moan that petrol can "go to pot."
That the huge platform of the Maudslay six-tonner has earned the sobriquet "skating rink."
Of " annexed " red and green paint—not to mention Royal blue—amongst the late ones.
That small tradesmen are beginning to realize that it is better to be in the van than in the.cart.
From Albion (West Bromwich) that some blast-furnaces will "burn up as 'much as £5,000" before they are properly re-lighted.
That the Ford Co. teaches its employees to understand English, and that Mr. R. T. Nicholson teaches the English to understand Fords.
That the aforesaid gentleman must surely, by now, have qualified for the Ford Diploma.