AGRIMOTOR TRIALS FOR SCOTLAND.
5th July 1921
Page 2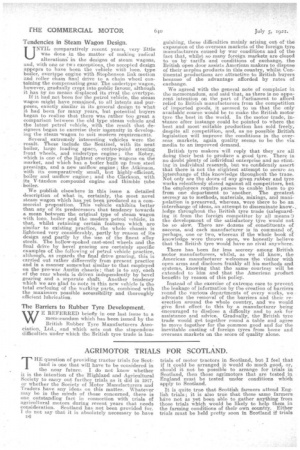 Page 3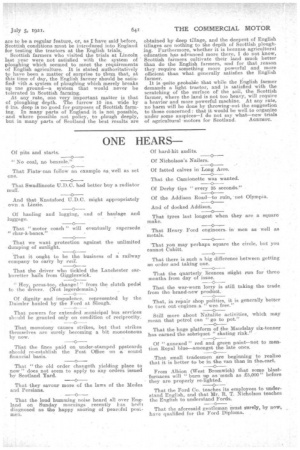 Page 2, 5th July 1921 —
AGRIMOTOR TRIALS FOR SCOTLAND.
Close
THE question of providing tractor trials for Scotland is one that will have to be considered in the near future. I do not know whether it is the intention of the Highland and Agricultural Society to carry out further trials as it did in 1917, or whether the Society of Motor Manufacturers and Traders have any ideas on this matter. Whatever may be in the minds of those concerned, there is one outstanding fact in connection with trials of agricultural motors during recent years that needs consideration. Scotland has not been provided for. I do not say that it is absolutely necessary to have
D6 trials of motor tractors in Scotland, but I feel that if it could be arranged it would do much good, or, should it not be possible to arrange for trials in Scotland, then those agrimotors that are tested in England must be tested under conditions which apply to Scotland.
It is quite true that Scottish farmers attend English trials; it is also true that these same farmers h-eve not as yet been able to gather anything from those trials which would be likely to help them in the farming conditions of their own country. Either trials must be held pretty soon in Scotland if trials are to be a regular feature, or, as I have said before, Scottish conditions must be introduced into England for testing the tractors at the English trials. Scottish farmers who visited the trials at Lincoln last year were not satisfied with the system of ploughing which seemed to meet the requirements of English agriculture. It is stated authoritatively to have been a matter of surprise to them that, at this time of day, the English farmer should be satisfled vith a system of ploughing which merely breaks up trie ground—a system that would never be tolerated in Scottish farming. At any rate, one very important matter is that of ploughing depth. The furrow 10 ins, wide by 6 ins, deep is no good for purposes of Scottish farming. In many parts of England it is not possible, and where 'Possible not policy, to plough deeply, but in many parts of Scotland the best results are obtained by deep tillage and the deepest of English tillages are nothing to the depth of Scottish ploughing. Furthermore, whether it is because agricultural education has advanced more there, I do not know, Scottish farmers cultivate their land much better than do the English farmers, and for that reason they require something more powerful and more efficient than what generally satisfies the English farmer.
It is quite ,probable that while the English farmer demands a light tractor, and is satisfied with the scratching of the surface of the soil, the Scottish farmer, where the land is not too heavy, will require a heavier and more powerful machine. At any rate, no harm will be done by throwing' out the suggestion to those concerned : that it would be well to organize under some auspices—I do not say what—new trials of agricultural motors for Scotland. AGRIMOT.