FITTING THE BODY TO THE JOB.
5th July 1921
Page 10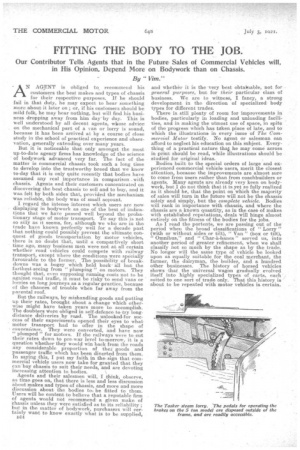 Page 10, 5th July 1921 —
FITTING THE BODY TO THE JOB.
Close
Our Contributor Tells Agents that in the Future Sales of Commercial Vehicles will, in His Opinion, Depend More on Bodywork than on Chassis,
By " Virn."
N AGENT is obliged to recommend his customers the best makes and types of chassis
for their respective purposes. If he should fail in that duty, he may expect to hear something more about, it later on ; or, if his customers should be mild folk, he may hear nothing, but will find his business dropping away from him day-by day. This is well understood by all decent agents, whose advice
. on the mechanical part of a van or lorry is sound, because it has been arrived at by a course pf close study in the school of practical experience and observation, generally extending over many years.
But it is noticeable that only amongst the most up-to-date agency firms has knowledge of the science • of bodywork advanced very far. The fact of the matter is commercial chassis took such a long time to develop into the trustworthy breed that we know • to-day that it is only quite recently that bodies have assumed any real importance in comparison , with chassis. Agents and their customers concentrated on discovering the beat chassis to sell and to buy, and it was felt by both sides that, provided the mechanism was reliable, the body was of small account.
I regard the intense interest which users are. now displaying in bodywork as one of the best of indications that. we have passed well beyond the probationary stage of motor transport. To say this is not so silly as it seems, for, although we who are in the trade have known perfectly well for a decade past that nothing could possibly prevent the ultimate conquest of goods transportation by motor vehicles, there is no doubt that, until a compaatively short time ago, many business men were not at all certain whether road vehicles could compete with railway transport, except where the conditions were specially favourable to the former. The possibility of break-. downs was a bogey which held back all but the farthest-seeing from " plumping " on motors. They thought that., even supposing running costs not, to be against road traffic, it must be risky to send vans or lorries on long journeys as a regular practice, because of the chances of trouble when far away from the parental roof.
But the railways, by mishandling goods and putting up their rates, brought about a change which otherwise might have taken years more to accomplish. The doubters Were obliged in self-defence to.try longdistance deliveries by road. The unlooked-for success of their experiments opened their eyes to what motor transport had to offer in the shape of con,venience. They were converted, and have now " plumped " for motors. If the railways were to cut their rates down to pre-war level to-morrow, it is a question whether they would win back from the roads any considerable proportion of thes goods and passenger traffic which has been diverted from them. In saying this, I put my faith in the sign that commercial vehicle users now take for granted that they ean-buy chassis to suit their needs, and are devoting increasing attention to bodies. Agents and their salesmen will, I think, observe, as time goes on, that there is less and less discussion about makes and types of chassis, and more and more discussion about the bodies to, be fitted to them. Users will be content to believe that a reputable firm of agents would not recommend a given make of chassis unless they were satisfied as to its reliability ; but in the matter of bodywork, purchasers will certainly want to know exactly what is to be supplied,
DI4
and whether it is the very best obtainable, not for general purposes, but for their particular class of business. We are to witness, I fancy, a strong development in the direction of specialized body types for different trades. There is still plenty of room for improvements in bodies, particularly in loading and unloading facilities, and in making the utmost use of space, in spite of the progress which has taken place of late and to which the illustrations in every issue of The Commercial Motor testify. No agent or salesman can afford to neglect his education on this subject. Everything of a practical nature thal he may come across in print should be read, while illustrations should be studied for original ideas. Bodies built to the special orders of large and experienced commercial vehicle users, merit the closest attention, because the improvements are almost sure to come from users rather than from coachbuilders or agents. Many agents are already very keen on bodywork, but I do not think that it is yet so fully realized as it should be, that the point on which the majority of sales will turn in the future will not be the chassis solely and simply, but the complete vehicle. Bodies will rank in importance with chassis, andd, where the chassis are a known quantity, as in the ease of makes with established reputations, deals will hinge almost entirely on the fitness of the bodies for the jobs. As I read the portents, we are passing out of the period when the broad classifications of " Lorry " (with or without sides or tilt), " Van" (box or tilt), "Omnibus," and " Char-h-ba.ncs " served us, into another period of greater refinement, when we shall classify not so much by the shape as by the trade. No longer will the, same type of vehicle be looked upon as equally suitable for the coal merchant, the farmer, the dairyman, the builder, and a hundred other businesses. The history of horsed vehicles shows that the universal wagon gradually evolved itself into highly specialized types of carts, each suited to one sort of trade only. That this history is about to be repeated with motor Vehicles is certain.