Trailers for Many Purposes
5th January 1932
Page 57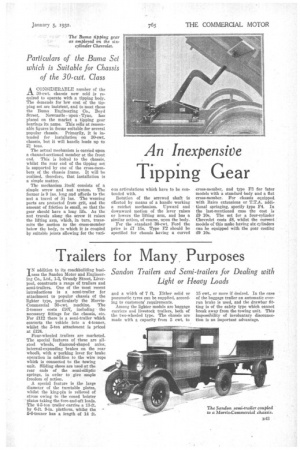 Page 57, 5th January 1932 —
Trailers for Many Purposes
Close
I N addition to its coachbuilding busi ness the Samdon Motor and Engineering Co., Ltd., 1-3, Grundy Street, Liverpool, constructs a range of trailers and semi-trailers. One of the most recent introductions is a semi-trailer for attachment to popular chassis of the lighter type, particularly the MorrisCommercial 30-cwt. machine. The 3-tonner costs £107, including the necessary fittings for the chassis, etc. For £112 there is a semi-trailer which converts the vehicle into a 4-tonner, whilst the 5-ton attachment is priced at £124.
Four-wheeled trailers are marketed. The special features of these are allsteel wheels, diamond-shaped axles, internal-expanding brakes on the rear wheelk, with a parking lever for brake operation in addition to the wire rope which is connected to the towing unit. Sliding shoes are used at the rear ends of the semi-elliptic springs, in order to give ample freedom of action.
A special feature is the large diameter of the turntable plates, whilst the king-pin is relieved of stress owing to the coned bolster ' plates taking the fore-and-aft loads. The 45-ton trailer carries a 13-ft. by 6-ft. 9-in, platform, whilst the 5-6-tonner has a length of 14 ft.
and a width of '7 ft. Either solid or pneumatic tyres can be supplied, according to customers' requirements.
Among the lighter models are baggage carriers and livestock trailers, both of the two-wheeled type. The chassis are made with a capacity from 5 cwt. to
15 cwt., or more if desired. In the case of the baggage trailer an automatic overrun brake is used, and the drawbar fitting is of the safety type which cannot break away from the towing unit. This impossibility of involuntary disconnection is an important advantage.