A New Built-in Jacking System
5th January 1932
Page 43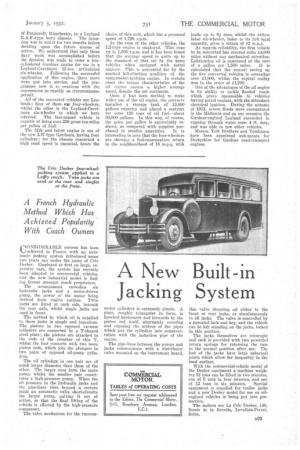 Page 43, 5th January 1932 —
A New Built-in Jacking System
Close
CONSIDERABLE success has been achieved in France with an automatic jaaking system introduced some two years ago under the name of Cric Desber. Employed at first on large, expensive cars, the system hits recently been adapted to commercial vehicles, and the new industrial model is finding favour amongst coach proprietors.
The arrangement embodies six hydraulic jacks and a motor-driven PumP, the power of the motor being derived from engine suction. Twin jacks arc fitted at each side, beneath the rear axle, whilst single jacks are used in front.
The method by which oil is supplied to these jacks is simple and ingenious. The pistons in two opposed vacuum cylinders are connected by a T-shaped steel plate ; the pistons are attached to the ends of the crossbar of this T, whilst the foot connects with two more piston rods, which join the plungers in two pairs of opposed oil-pump cylinders.
The oil cylinders in one pair are of much larger diameter than those of the other. The larger ones form the main pump, whilst the smaller pair constitutes' a high-pressure pump. When the nil pressure in the hydraulic jacks and the pipe-lines rises beyond a• certain point an automatic valve short-circuits the larger pump, putting it out of action, so that the final lifting of the vehicle is effected by the high-pressure component.
The valve mechanism for the vacuum
motor cylinders is extremely simple. A plate, roughly . triangular in form, is knocked backwards and forwards by the piston rod itself, alternately covering and exposing the .orifices of the pipes which put the cylinders into communication with the induction pine of the engine.
The pipe-lines between the pumps and jacks communicate with a distributor valve mounted on the instrument board, this valve directing oil either to the front or rear jacks, or simultaneously to all jacks. The valve is controlled by a patented lock and key, and the vehicle can be left standing on the jacks, locked in this position.
The jacks themselves are telescopic and each is provided with two powerful return springs for returning the ram to the normal position after use. The feet of the jacks have large spherical joints which allow for inequality in the road surface.
With the commercial-vehicle model of the Desber equipment a machine weighing 2i tons can be lifted in two minutes, one of 5 tons in four minutes, and one of 12 tons in six minutes. Special equipment is supplied for. trailer jacks and a new Desber model for use on oilengined vehicles is being put into production.
The makers are Le Cric Desber, 140, Route de la Revolte, Levallois-Perret, Seine.