The Vital Question of Bridges
5th January 1932
Page 31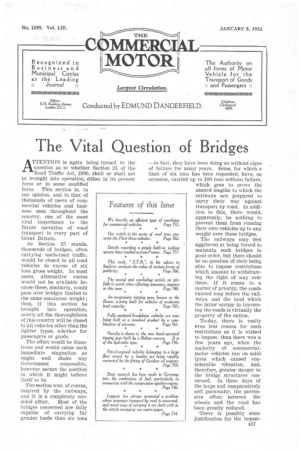 Page 32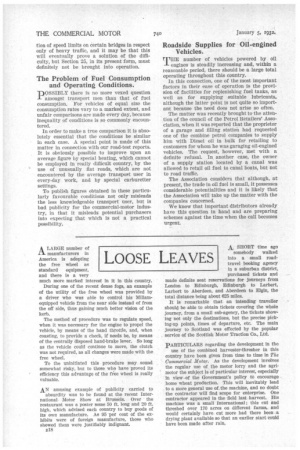 Page 31, 5th January 1932 —
The Vital Question of Bridges
Close
ATTENTION is again being turned to the question as to whether Section 25 of the Road Traffic Act, 1930, shall or shall not be brought into operation, either in its present form or in some modified form. This section is, in our opinion, and in that of thousands of users of commercial vehicles and business men throughout the country, one of the most vital importance to the future operation of road transport in every part of Great Britain.
As Section 25 stands, thousands of bridges, often carrying main-road traffic, would be closed to all road vehicles in excess of six tons gross weight. In most cases, alternative routes would not be available because these, similarly, would pass over bridges limited to the same maximum weight ; thus, if this section be brought into operation, nearly all the thoroughfares of this country will be closed to all vehicles other than the lighter types, whether for passengers or goods. ; The effect would be disastrous and would cause such immediate stagnation as might well shake any Government responsible, however secure the position in which it might believe itself to be.
The section was, of course, inspired by the railways, and it is a completely onesided affair. Most of the bridges concerned are fully capable of carrying far greater loads than six tons —in fact, they have been doing so without signs of failure for many years. Some, for which a limit of six tons has been requested, have, on occasion, carried up to 100 tons without failure, which goes to prove the absurd lengths to-which the railways are prepared to carry their war against transport by road. In addition to this, there would, apparently, be nothing to prevent them from running their own vehicles up to any weight over these bridges.
The railways may feel aggrieved at being forced to maintain such bridges in good order, but there should be no question of their being able to impose restrictions which amount to withdrawing the right of way over them. If it comes to a matter of priority, the roads existed long before the railways, and the land which the latter occupy in traversing the roads is virtually the property of the nation.
To-day, there is really even less reason for such restrictions as it is wished to impose, than there was a few years ago, when the majority of commercialmotor vehicles ran on solid tyres -which caused considerable vibration, and, therefore, greater danger to the bridge structures concerned. In these days of the large and comparatively soft pneumatic, the percussive effect between the wheels and the road has been greatly reduced.
There is possibly some justification for the imposi tion of speed limits on certain bridges in respect only of heavy traffic, and it may be that this will eventually prove a solution of the difficulty, but Section 25, in its present form, must definitely not be brought into operation.
The Problem of Fuel Consumption and Operating Conditions.
pQSSIBLY there is no more vexed question amongst transport men than that of fuel consumption. For vehicles of equal size the consumption rates vary to a marked extent, and unfair comparisons are made every day, because inequality of conditions is so commonly encountered.
In order to make a true comparison it is absolutely essential that the conditions be similar in each case. A special point is made of this matter in connection with our road-test reports. It is obviously possible to improve upon an average figure by special heating, which cannot be employed In really difficult country, by the use of unusually flat roads, which are not encountered by the average transport user in every-day work, and by special carburetter settings.
To publish figures obtained in these particularly favourable conditions not only misleads the less knowledgeable transport user, but is bad publicity for the commercial-motor industry, in that it misleads potential purchasers into expecting that which is not a practical
Roadside Supplies for Oil-engined Vehicles.
-THE numberof vehicles powered by oil -Iengines is steadily increasing and, within a reasonable period, there should be a large total operating throughout this country.
In this connection, one of the most important factors in their ease of operation is the provision of facilities for replenishing fuel tanks, as well as for supplying suitable lubricants, although the latter point is not quite so important because the need does not arise so often.
The matter was recently brought to the attention of the council of the Petrol Retailers' Association, when it was reported that the proprietor of a garage and filling station had requested one of the combine petrol companies to supply him with Diesel oil in bulk for retailing to customers for whom he was garaging oil-engined vehicles. The request, however, met with a definite refusal. In another case, the owner of a supply station located by a canal was allowed to retail oil fuel to canal boats, but not to road traffic. • The Association considers that although, at present, the trade in oil fuel is small, it possesses considerable potentialities and it is likely that the Association will take up the matter with the companies concerned.
We know that important distributors already have this question in hand and are preparing schemes against the time when the call becomes urgent.