ONE HEARS
5th January 1926
Page 3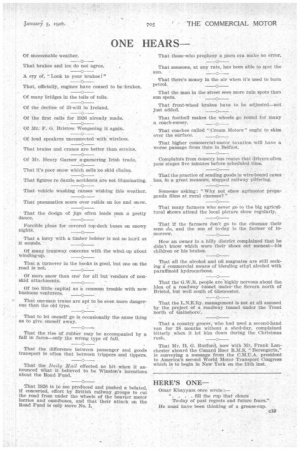 Page 3, 5th January 1926 —
ONE HEARS
Close
Of sneezenable weather.
That brakes and ice do not agree.
A cry of, " Look to your brakes! "
Thai, officially, engines have ceased to be brakes.
Of many bridges in the toils of tolls.
Of the decline of ill-will in Ireland.
Of the first calls for 1926 already made, Of Mr. F. G. Bristow Weng,ening it again.
Of loud speakers unconnected with wireless.
That brains and cranes are better than strains.
Of Mr. Henry Garner a-garnering Irish trade.
That it's poor snow whiCh sells no skid chains.
That figures re dazzle accident§ are not illuminating.
That vehicle washing causes wishing this weather.
That pneumatics score over olids on ice and snow.
That the design of jigs often leads men a pretty dance.
Forcible pleas for covered top-deck buses on snowy nights. • 0 That a lorry with a timber bolster is not so hard as it sounds. 0 Of many tramway concerns with the winch up about winding-up.
That a turnover in the books is good, but one on the road is not.
Of more snow than eno' for all but vendors of non skid attachments.
Of too little capital as a common trouble with new business venturers. 0 That one-man trams are apt to be even more danger ous than the old type.
That to let oneself go is occasionally the same thing as to give oneself away.
That the rise of rubber may be accompanied by a fall in fares—only the wrong type of fall.
That the difference between passenger and goods transport is often that between trippers and tippers.
That the Daily Mai/ effected no hit when it announced What it believed to be Winston's intentions about the Road Fund.
That 1926 is to see produced and pushed a belated, if concerted, effort by British railway groups to cut the road from under the wheels of the heavier motor lorries and omnibuses, and that their attack on the Road Fund is only move No. 1, That those who prophesy a .pneu era make no error. That someone, at any rate, has been able to spot the That there's money in the air when it's used to burn petrol.
That the man in the street sees more rain spots than sun spots. 0 That front-wheel brakes have to be adjusted—not just added. "
That football makes the wheels go round for Many a coach-owner.
That coaches called ".Cream Motors" ought to skim over the surface.
That higher commercial-motor taxation will have a worse passage from than in Belfast.
Complaints from Country bus routes that drivers often pass stages five minutes before scheduled time.
That the practice of sending goods in wire-boUnd eases has, in a great measure, stopped railway pilfering.
Someone asking: "Wily not snow agrimotor propaganda films at rural cinemas?"
That many farmers who never go-to the big agricultural irhows attend the local picture show regularly.
That if the farmers don't go to the cinemas their sons do, and the son of to-day is the farmer of tomorrow.
How an owner in -a hilly district complained that he didn't know which wore their shoes out soonest—his children or his brakes.
That all the alcohol and oil magnates are still seeking s commercial means of blending ethyl alcohol with paraffinoid hydrocarbons.
That the G.W.R. peoPle are highly nervous about the idea of a roadway tunnel under, the Severn. north of Bristol, but well south of Gloucester.
That the L.N.E.Ry. management is not at all amused by the project of a roadway tunnel under the Trent north of Gainsboro'.
That a country grocer, who had used a second-land van for 18 months without a shed-day, complained bitterly when it let him down during the Christmas rush. 0 That Mr. II. G. Burford, now with Mr. Frank Lanchester aboard the Cunard liner R.M.S. 't Berengaria," is conveying a message from the C.M.U.A. president to America's second World MotorTransport Congress which is to begin in New York on the 11th bast..