DEATH OF :A ROAD TRANSPORT PIONEER.
5th January 1926
Page 19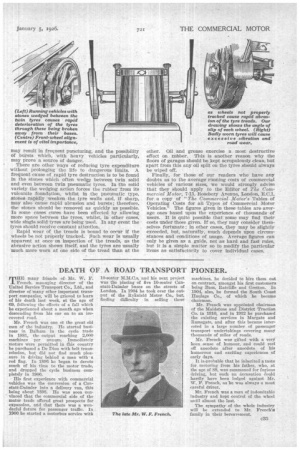 Page 19, 5th January 1926 —
DEATH OF :A ROAD TRANSPORT PIONEER.
Close
THE many friends of Mr. W. F. French. managing director of the United Service Transport Co., Ltd., and director of many other important transport companies, will be grieved to learn of his death last week, at the age of 69, following the effects of a fall which he experienced about a month ago when descending from his car on to an icecovered road.
Mr. French was one at the great old men of the industry. He started business in Balbam in the cycle trade in 18S1, the output reaching 2,000 machines per annum. Immediately motors were permitted in this country he purchased a De Dion with belt transmission, but did not find much pleasure in driving behind a man with a red flag. In 1896 he began to devote much of his time to the motor trade, and dropped the cycle business completely in 1900.
His first experience with commercial vehicles was the conversion of a Canstatt-Daimler into a delivery van, this being about 1898He was soon convinced that the commercial side of the motor trade offered great prospects for expansion, and that there was a wonderful future for passenger traffic. Li 1900 he started a motorbus service with
10-seater M.M.C.s, and his next project was the placing of five 10-seater Canstatt-Daimler buses on the streets of London. In 1904 he took over the output of the Ityknield Motor Co., but, finding difficulty in selling these machines, he decided to hire them out on contract, amongst his first customers being Bass, Ratcliffe and Gretten. In 1904, also, he formed the South Coast Haulage Co., of which he became chairman.
Mr. French was appointed chairman of the Maidstone and District Traction Co. in 1910, and in 1912 he purchased the existing services in Margate and Ramsgate, and after this became interested in a large number of passenger transport undertakings covering many thousands of miles of roads.
Mr. French was gifted with a very keen sense of humour, and could reel off anecdote after anecdote of his humorous and exciting experiences of early days.
It is-probable that be inherited a taste for motoring from his father, who, at the age of 88, was summoned for furious driving, but such an accusation could hardly have been lodged against Mr. W. P. French, as he was always a most careful driver.
Mr. French was a man of indomitable industry and kept control of the wheel until almost the last. • The sympathy of the whole industry will be extended to Mr. French's family in their bereavement.