am2 4,4 .61thintw
5th December 1981
Page 49
Page 50
Page 51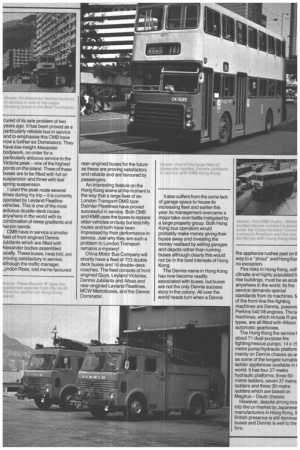 Page 49, 5th December 1981 —
am2 4,4 .61thintw
Close
Keywords :
Buses
,
Double-decker Buses
,
Daimler Fleetline
,
Dennis Jubilant
,
Dennis Dominator
,
Kowloon Motor Bus
,
Mcw Metrobus
,
Dennis Specialist Vehicles
,
China Motor Bus
,
Dennis Dragon
,
Dennis Trident 3
IRMO KONG
CM's staff travels the world to examine transport operation and report back. This is Noel Millier's report from Hong Kong where he found Hestair Dennis well to the fore in both psv and fire service oneration
NITH A TOTAL area of 1,061.72 square kilometres and more than 200 islands Hong Kong is net the pusman's paradise everybody :hinks it is. However, with most of ts over five million population living Jn the 76.2 square kilometres of Hong Kong island and 11.23 square kilometres of the Kowloon peninsula and spilling over into the ?72.37 square kilometers of the New Territories, it certainly presents a challenge for the Durveyors of all kinds of public Tansport.
Most of the Colony's land is steep, unproductive rock and the population in the main has to live DO about 15.7 per cent of the total and area— often in very large high-ise housing estates. To get these People from the estates to work xeates major and constant Jemands for transport.
This demand for transport is not by any means the sole and exclusive domain of Hong Kong's two double-deck bus operators. The buses, as in Britain, have to compete with a rising car ownership as the population prospers, together with a cheap and efficient taxi fleet, a large and increasing number of works contract buses and a popular but road-space consuming fleet of public light bus and maxicabs (minibuses). All services are looking for road space on the limited amount of land available.
Heavy traffic, heavy passenger demand, coupled with mountainous terrain and a subtropical climate all add up to a particularly difficult place to operate double deck buses — particularly without revenue support. In recent years the demand on the buses and road space has been partially relieved with the opening of the Mass Transit Railway (MTR) and will be further relieved as the system is extended Despite the MTR taking some of the pressure from the buses, passenger occupancy levels remain much higher than any experienced in Britain at any time of the day.
It had been two years since I last visited Hong Kong when this September when I returned. I could not help but be impressed by the dramatic new changes — new roads, buildings and towns have appeared and are already in use. Two years ago I reported on the operation of a small fleet of Ailsa deckers in service. These are still serving the colony well. This trip I studied the progress of Hestair Dennis bus population in the Colony.
Two years ago the Kowloon Motor Bus Company (1933) Lk fleet included a small batch off engined Dennis Jubilants and t China Motor Bus Company on Hong Kong island had an old Dennis Loline, and one new Dennis Dominator fitted with Lancs bodywork which at the til of my visit was out of service w rear axle problem.
This year an impressive fleei new Dennis buses makes the name dominant throughout the Colony. The largest bus comp in Hong Kong and indeed in th( South East Asian region is KMI which now boasts a fleet of 2,2. licensed buses. The KMB bus I includes Daimler, Guy. AEC, Leyland, Albion. MCW, and Det buses which operate over 200 routes on the Hong Kong main together with a share of the rot. through the busy road tunnel between Hong Kong and the mainland.
When Dennis re-entered the . bus market with its Dominator i also introduced a front-engine( chassis specifically to cater for KMB. At that time the KMB hac )ility problem with its rear ed Fleetline deckers. Early in , four Gardner-powered, is Jubilants with KMB work entered service. These d four South African-style Guy ry J double deckers.
e success of the operation Drders for both the Jubilants new version of the Victory — eyland Victory Mark 2. Large ; of both entered service from with bodywork assembled ckd kits supplied by riders of Falkirk.
1B has now 364 Dennis ants in service; of these over vere completed this year. The 00 have Duple Metsec
s.
>ked KMB engineer Mike 1, if the Jubilant had operated ut problems in Hong Kong. ``No bus operates totally without problems in Hong Kong" he said. The Jubilants suffered from some chassis outrigger problems which had been overcome by Dennis engineers both on the spot and back in Guildford. This quick response and an immediate willingness to identify and rectify problems is the Hestair-Dennis bus story in Hong Kong. KMB buses often work an eighteen-hour day. Often they have loads in access of 100 passengers, Traffic congestion causes drivers to accelerate and brake in ways which are not sympathetic to either vehicles or passengers. Many of Hong Kong's roads are "bumpy".
Despite increasing its fleet to 2,500 vehicles in response to Government requests for fleet expansion and the company being short of garage space for about 700 vehicles the two main running depots (each with over 1,000 vehicles) manage a three-weekly maintenance and inspections cycle on each vehicle. The company also has two engine and one body overhaul depot dealing with major maintenance and accident repair work.
In Hong Kong psvs have to pass a Certificate of Fitness inspection every two to five years depending on vehicle age as well as a thorough annual Transport Department road inspection.
Even after a controversial fare increase the flat fares are among the lowest anywhere in the world. The inflationary spiral affecting vehicle component and fuel costs will undoubtedly necessitate more fare increases before long. .
Back at theChina Motor Bus Company in Hong Kong island the Dennis Dominator was completely cured of its axle problem of two years ago. It has been proved as a particularly reliable bus in service and to emphasise this CMB have now a further six Dominators. They have low-height Alexander bodywork, on order for a particularly arduous service to the Victoria peak — one of the highest points on the island. Three of these buses are to be fitted with full air suspension and three with leaf spring suspension.
I used the peak route several times during my trip — it is currently operated by Leyland Fleetline vehicles. This is one of the most arduous double-deck routes anywhere in the world with its .7-ombination of steep gradients and hairpin bends.
CMB have in service a smaller fleet of front engined Dennis Jubilants which are fitted with Alexander bodies assembled ocally. These buses, I was told, are Droving satisfactory in service, 3Ithough the traffic manager. _yndon Roes, told me he favoured rear-engined buses for the future as these are proving satisfactory and reliable and are favoured by passengers.
An interesting feature on the Hong Kong scene at the moment is the way that a large fleet of exLondon Transport DMS type Daimler Fleetlines have proved successful in service. Both CMB and KMB uses the buses to replace older vehicles on busy but less hilly routes and both have been impressed by their performance in service. Just why they are such a problem to London Transport remains a mystery!
China Motor Bus Company will shortly have a fleet of 733 double deck buses and 16 double-deck coaches. The fleet consists of front engined Guys, Leyland Victories, Dennis Jubilants and Ailsas and rear-engined Leyland Fleetlines, MCW Metrobuses, and the Dennis Dominator. It also suffers front the same lack of garage space to house its increasing fleet and earlier this year its management overcame a major take-over battle instigated by a large property group. Both Hong Kong bus operators would probably make money giving their buses away and investing the money realised by selling garages and depots rather than running buses although clearly this would not be in the best interests of Hong Kong.
The Dennis name in Hong Kong has now become readily associated with buses, but buses are not the only Dennis success story in the colony. All over the world heads turn when a Dennis fire appliance rushes past on ti way to a "shout" and Hong Kor no exception.
Fire risks in Hong Kong, with climate and highly populated h rise buildings, must be as acuti anywhere in the world. Its fire service demands special standards from its machines. IN, of the front-line fire-fighting machines are Dennis, powerec Perkins 540 V8 engines. The la machines. which include R anc types, are all fitted with Allison automatic gearboxes.
The Hong Kong fire service t about 71 dual-purpose fire fighting/rescue pumps, 14 x 15 metre pump/hydraulic platform mainly on Dennis chassis as wi as some of the longest turnablE ladder appliances available in t world. It has four 27-metre hydraulic platforms, three 50metre ladders, seven 37 metre ladders and three 30-metre ladders which are based on Magirus — Deutz chassis.
However, despite strong inro into the cv market by Japanese manufacturers in Hong Kong, tI British presence is still dominar buses and Dennis is well to the fore.