Deep in the heart of the environment
5th December 1981
Page 44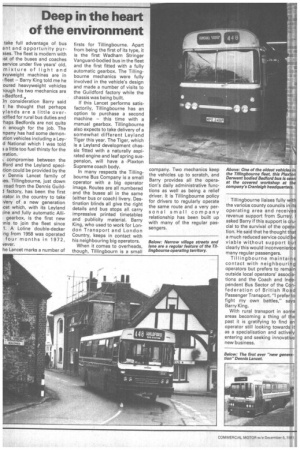 Page 44, 5th December 1981 —
Deep in the heart of the environment
Close
take full advantage of bus ant and opportunity purases. The fleet is modern with ist of the buses and coaches service under five years' old. mixture of light and wyweight machines are in ; fleet — Barry King told me he oured heavyweight vehicles -lough his two mechanics are )-Bedford..
)n consideration Barry said t he thought that perhaps ylands are a little over:cified for rural bus duties and .haps Bedfords are not quite n enough for the job. The npany has had some demonition vehicles including a Leyd National which I was told s a little too fuel thirsty for the ;ration.
I compromise between the iford and the Leyland specition could be provided by the v Dennis Lancet family of ;es. Tillingbourne, just down road from the Dennis Guild factory, has been the first :rator in the country to take N,',ery of a new generation rcet which, with its Leyland line and fully automatic Alli
gearbox, is the first new mis to join the fleet since 1. A Loline double-decker ng from 1958 was operated four months in 1972, vever.
he Lancet marks a number of firsts for Tillingbourne. Apart from being the first of its type, it is the first Wadham Stringer Vanguard-bodied bus in the fleet and the first fitted with a fully automatic gearbox. The Tillingbourne mechanics were fully involved in the vehicle's design and made a number of visits to the Guildford factory while the chassis was being built.
If this Lancet performs satisfactorily, Tillingbourne has an option to purchase a second machine — this time with a manual gearbox. Tillingbourne also expects to take delivery of a somewhat different Leyland Tiger this year. The Tiger, which is a Leyland development chassis fitted with a naturally aspirated engine and leaf spring suspension, will have a Plaxton Supreme coach body.
In many respects the Tillingbourne Bus Company is a small operator with a big operator image. Routes are all numbered and the buses all in the same (either bus or coach) livery. Destination blinds all give the right details and bus stops all carry impressive printed timetables and publicity material. Barry King, who used to work for London Transport and London Country, keeps in contact with his neighbouring big operators.
When it comes to overheads, though, Tillingbourn is a small company. Two mechanics keep the vehicles up to scratch, and Barry provides all the operation's daily administrative functions as well as being a relief driver. It is Tillingbourne policy for drivers to regularly operate the same route and a very personal small company relationship has been built up with many of the regular passengers. Tilling bourne liaises fully with the various county councils in its operating area and receives revenue support from Surrey. I asked Barry if this support is crucial to the survival of the operation. He said that he thought that a much reduced service could be viable without support but clearly this would inconvenience many regular passengers.
Tillingbourne maintains contact with neighbouring operators but prefers to remain outside local operators' associations and the Coach and Independent Bus Sector of the Conf ede ra ti on of British Road Passenger Transport. "I prefer to fight my own battles," says Barry King.
With rural transport in some areas becoming a thing of the past it is gratifying to find an operator still looking towards it as a specialisation and actively entering and seeking innovative new business.