Deep in the hear of the 'environmen
5th December 1981
Page 42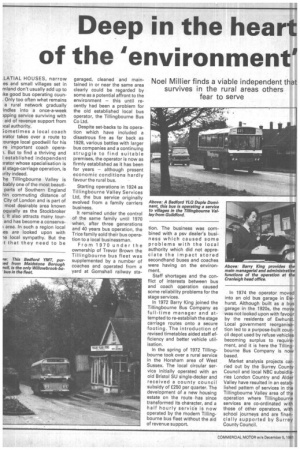 Page 43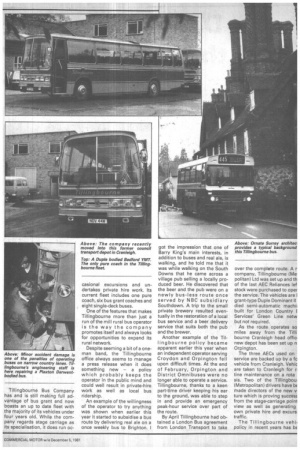 Page 42, 5th December 1981 —
Deep in the hear of the 'environmen
Close
Noel Millier finds a viable independent that survives in the rural areas others fear to serve
LATIAL HOUSES, narrow es and small villages set in mland don't usually add up to ike good bus operating cuun. Only too often what remains a rural network gradually indles into a once-a-week )pping service surviving with aid of revenue support from )cal authority.
iometimes a local coach ?rator takes over a route to :ourage local goodwill for his re important coach opera But to find a thriving and I established independent )rator whose specialisation is al stage-carriage operation, is irity indeed.
he Tillingbourne Valley is bably one of the most beautiparts of Southern England hin commuting distance of City of London and is part of most desirable area known oquially as the Stockbroker L. It also attracts many tourand has become a conserva) area. In such a region local .es are looked upon with le local sympathy. But the t that they need to be garaged, cleaned and maintained in or near the same area clearly could be regarded by some as a potential affront to the environment — this until recently had been a problem for the old established local bus operator, the Tillingbourne Bus Co Ltd.
Despite set-backs to its operation which have included a disastrous fire as far back as 1928, various battles with larger bus companies and a continuing struggle to find suitable premises, the operator is now as firmly established as it has been for years — although present economic conditions hardly favour the rural bus.
Starting operations in 1924 as Tillingbourne Valley Services Ltd, the bus service originally evolved from a family carriers business.
It remained under the control of the same family until 1970 when, after three generations and 40 years bus operation, the Trice family sold their bus operation to a local businessman.
From 1970 under the ownership of Trevor Brown the Tillingbourne bus fleet was supplemented by a number of coaches and operated from a yard at Gomshall railway sta tion. The business was combined with a psv dealer's business which caused some problems with the local authority which did not appreciate the impact stored secondhand buses and coaches were having on the environment.
Staff shortages and the conflict of interests between bus and coach operation caused some reliability problems for the stage services.
In 1972 Barry King joined the Tillingbourne Bus Company as full-time manager and attempted to re-establish the stage carriage routes onto a secure footing. The introduction of revised timetables aided staff efficiency and better vehicle utilisation.
In the spring of 1972 Tillingbourne took over a rural service in the Horsham area of West Sussex. The local circular service initially operated with an old Bristol SU single-decker and received a county council subsidy of £250 per quarter. The development of a new housing estate on the route has since transformed its character, and a half hourly service is now operated by the modern Tillingbourne bus fleet without the aid of revenue support. In 1974 the operator moved into an old bus garage in Ewburst. Although built as a bus garage in the 1920s, the move was not looked upon with favour by the residents of Ewhurst. Local government reorganisation led to a purpose-built council depot used by refuse vehicles becoming surplus to requirement, and it is here the Tillingbourne Bus Company is now based.
Market analysis projects carried out by the Surrey County Council and local NBC subsidiaries London Country and Alder Valley have resulted in an established pattern of services in the Tillingbourne Valley area of the operation where Tillingbourne services are co-ordinated with those of other operators, with school journeys and are financi a Ily supported by Surrey County Council. Tillingbourne Bus Company has and is still making full advantage of bus grant and now boasts an up to date fleet with the majority of its vehicles under four years old. While the cornpany regards stage carriage as its specialisation, it does run oc casional excursions and undertakes private hire work. Its current fleet includes one pure coach, six bus grant coaches and eight single-deck buses.
One of the features that makes Tillingbourne more than just a run of the mill rural bus operator is the way the company promotes itself and always looks for opportunities to expand its rural network.
Despite seeming a bit of a oneman band, the Tillingbourne office always seems to manage a press release when it does something new — a policy which probably keeps the operator in the public mind and could well result in private-hire work as well as local bus ridership.
An example of the willingness of the operator to try anything was shown when earlier this year it started to subsidise a bus route by delivering real ale on a once weekly bus to Brighton. I
got the impression that one of Barry King's main interests, in addition to buses and real ale, is walking, and he told me that it was while walking on the South Downs that he came across a village pub selling a locally produced beer. He discovered that the beer and the pub were on a newly bus-less route once served by NBC subsidiary Southdown. A trip to the small private brewery resulted eventually in the restoration of a local bus service and a beer delivery service that suits both the pub and the brewer.
Another example of the Tillingbourne policy became
apparent earlier this year when an independent operator serving Croydon and Orpington fell upon difficult times. At the end of February, Orpington and District Omnibuses were no longer able to operate a service. Tillingbourne, thanks to a keen part-time driver keeping his ear to the ground, was able to step in and provide an emergency peak-hour service over part of the route.
By April Tillingbourne had obtained a London Bus agreement from London Transport to take
over the complete route. A r company, Tillingbourne (Mepolitan} Ltd was set up and th of the last AEC Reliances lef stock were purchased to oper the service. The vehicles are I grant-type Duple Dominant II died semi-automatic machil built for London Country Services' Green Line netw but not required.
As the route operates so miles away from the Tilli bourne Cranleigh head offic, new depot has been set up n Orpington.
The three AECs used on service are backed up by a fo vehicle from Cranleigh. Vehic are taken to Cranleigh for r, tine maintenance on a rota sis. Two of the Tillingboul (Metropolitan) drivers have bE made directors of the new v, ture which is proving success from the stage-carriage point view as well as generating own private hire and excursi traffic.
The Tillingbourne vehil policy in recent years has bE