Complex reasons gav; operator his chance
5th December 1981
Page 18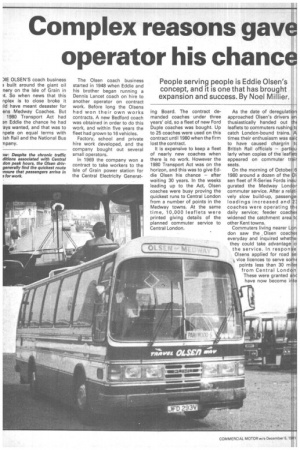 Page 19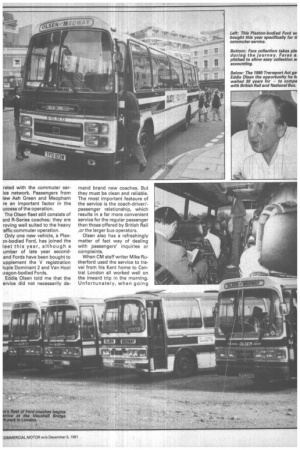 Page 18, 5th December 1981 —
Complex reasons gav; operator his chance
Close
People serving people is Eddie Olsen's concept, and it is one that has brought expansion and success. By Noel Millier.
DIE OLSEN'S coach business 3 built around the giant oil nery on the Isle of Grain in it. So when news that this nplex is to close broke it Id have meant desaster for ens Medway Coaches. But
1980 Transport Act had an Eddie the chance he had aye wanted, and that was to vete on equal terms with ish Rail and the National Bus npany. The Olsen coach business started in 1948 when Eddie and his brother began running a Dennis Lancet coach on hire to another operator on contract work. Before long the Olsens had won their own works contracts. A new Bedford coach was obtained in order to do this work, and within five years the fleet had grown to 16 vehicles.
Factory, school and private hire work developed, and the company bought out several small operators.
In 1969 the company won a contract to take workers to the Isle of Grain power station for the Central Electricity Generat
ing Board. The contract demanded coaches under three years' old, so a fleet of new Ford Duple coaches was bought. Up to 25 coaches were used on this contract until 1980 when the firm lost the contract.
It is expensive to keep a fleet of nearly new coaches when there is no work. However the 1980 Transport Act was on the horizon, and this was to give Eddie Olsen his chance — after waiting 30 years. In the weeks leading up to the Act, Olsen coaches were busy proving the quickest runs to Central London from a number of points in the Medway towns. At the same time, 1 0,00 0 leaflets were printed giving details of the planned commuter service to Central London. As the date of deregulation approached Olsen's drivers en thusiastically handed out the leaflets to commuters rushing tc catch London-bound trains. A times their enthusiasm was saic to have caused chargrin tc British Rail officials — particu any when copies of the leaflets. appeared on commuter trair seats.
On the morning of October 6 1980 around a dozen of the 01 sen fleet of R-Series Fords inau gurated the Medway Londor commuter service. After a relati. vely slow build-up, passengei loadings increased and 2:: coaches were operating thE daily service; feeder coaches widened the catchment area tc other Kent towns.
Commuters living nearer Lon don saw the , Olsen coaches everyday and inquired whethei they could take advantage a the service. In response Olsens applied for road sel Vice licences to serve some points less than 30 mileE from Central London These were granted anc have now become inte rated with the commuter serice network. Passengers from lew Ash Green and Meopham re an important factor in the uccess of the operation.
The Olsen fleet still consists of ord R-Series coaches; they are roving well suited to the heavy .affic commuter operation.
Only one new vehicle, a Plax)n-bodied Ford, has joined the leet this year, although a umber of late year secondand Fords have been bought to upplement the V registration luple Dominant 2 and Van 1-lool ■ ragon-bodied Fords.
Eddie Olsen told me that the ervice did not necessarily de mand brand new coaches. But they must be clean and reliable. The most important feataure of the service is the coach-driver!passenger relationship, which results in a far more convenient service for the regular passenger than those offered by British Rail ,or the larger bus operators.
Olsen also has a refreshingly matter of fact way of dealing with passengers' inquiries or complaints.
When CM staff writer Mike Rutherford used the service to travel from his Kent home to Central London all worked well on the inward trip in the morning. Unfortunately, when going