Ford look to Foden for lorry factory
5th December 1981
Page 15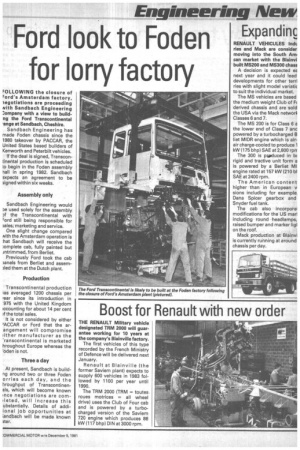 Page 15, 5th December 1981 —
Ford look to Foden for lorry factory
Close
7.OLLOWING the closure of :ord.'s Amsterdam factory, legotiations are proceeding Nith Sandbach Engineering ompany with a view to buildng the Ford Transcontinental .ange at Sandbach, Cheshire.
Sandbach Engineering has made Foden chassis since the 1980 takeover by PACCAR, the United States based builders of Kenworth and Peterbilt vehicles.
If the deal is signed, Transcontinental production is scheduled to begin in the Foden assembly nail in spring 1982. Sandbach axpects an agreement to be signed within six weeks.
Assembly only
Sandbach Engineering would De used solely for the assembly 3f the Transcontinental with =ord still being responsible for sales; marketing and service.
One slight change compared with the Amsterdam operation is hat Sandbach will receive the ;omplete cab, fully painted but Jntrimmed, from Berliet.
Previously Ford took the cab )anels from Berliet and assem)led them at the Dutch plant.
Production Transcontinental production las averaged 1200 chassis per rear since its introduction in 975 with the United Kingdom iccounting for about 14 per cent af the total sales.
It is not considered by either 'ACCAR or Ford that the arangement will compromise ither manufacturer as the "ranscontinental is marketed hroughout Europe whereas the 'oden is not.
Three a day At present, Sandbach is buildrig around two or three Foden orries each day, and the hroughput of Transcontinenals, which will become known ince negotiations are cornIleted, will increase this ubstantially. Details of addiional job opportunities at landbach will be made known 3ter.