Expandinc
5th December 1981
Page 15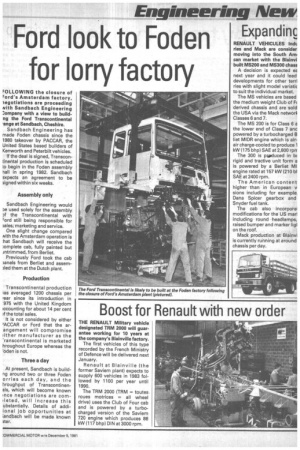 Page 15, 5th December 1981 —
Expandinc
Close
RENAULT VEHICULES Indi ries and Mack are consider moving into the South Ami can market with the Blainvi built MS200 and MS300 chase A decision is expected ez next year and it could lead developments for other terni ries with slight model variatic to suit the individual market.
The MS vehicles are based the medium weight Club of Fc derived chassis and are sold the USA via the Mack network Classes 6 and 7.
The MS 200 is for Class 6 a the lower end of Class 7 anc powered by a turbocharged B Het MIDR engine which is airair charge-cooled to produce 1 kW 1175 bhp) SAE at 2,800 rprr The 300 is puoduced in b< rigid and tractive unit form a is powered by a Berliet Ml engine rated at 157 kW (210 bl SAE at 2400 rpm.
The American content higher than in European v sions including for example, Dana Spicer gearbox and Snyder fuel tank.
The cab also incorporai modifications for the US marl including round headlamps, raised bumper and marker ligl on the roof.
Mack production at Blainvi is currently running at around chassis per day.