NBC in 'straitjacket' HE GOVERNMENT is placing publicly-owned transport industries
5th December 1981
Page 13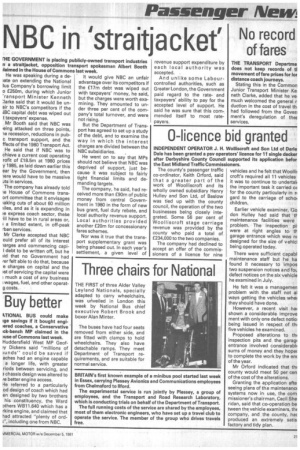 Page 13, 5th December 1981 —
NBC in 'straitjacket' HE GOVERNMENT is placing publicly-owned transport industries
Close
n a straitjacket, opposition transport spokesman Albert Booth iaimed in the House of Commons last week.
He was speaking during a de)ate on extending the National ius Company's borrowing limit o £250m, during which Junior • ransport Minister Kenneth :larke said that it would be unair to NBC's competitors if the JBC capital debt was wiped out t taxpayers' expense.
Mr Booth said that NBC was .eing attacked on three points, le recession, reductions in pubc transport support, and the ffects of the 1980 Transport Act. He said that if NBC was to chieve a current cost operating rofit of £18.5m at 1980 prices y 1985, as laid down earlier this ear by the Government, then iere would have to be massive _Its in services.
The company has already told le House of Commons transort committee that it envisages taking cuts of about 60 million tiles, and as it is expanding in le express coach sector, these have to be in rural areas or, a limited extent, in off-peak -ban services.
Mr Clarke accepted that NBC ould prefer all of its interest iarges and commencing capiI debt to be written off, but he iid that no Government had fer felt able to do that, because e charges on capital and the ist of servicing the capital were ; much a cost of any business ; wages, fuel, and other operatg costs. It would give NBC an unfair advantage over its competitors if the £17m debt was wiped out with taxpayers' money, he said, but the charges were worth examining. They amounted to under three per cent of the company's total turnover, and were not rising.
But the Department of Transport has agreed to set up a study of the debt, and to examine the way in which the interest charges are divided between the NBC subsidiaries.
He went on to say that MPs should not believe that NBC was deprived of support, just because it was subject to fairly tight financial limits and demanding targets.
The company, he said, had received more than £90m of public money from central Government in 1980 in the form of new bus grant, fuel duty rebate, and local authority revenue support. Local authorities provided another £20m for concessionary fares schemes.
Nor was it true that the transport supplementary grant was being phased out. In each year's settlement, a given level of revenue support expenditure by each local authority was accepted.
And unlike some Labourcontrolled authorities, such as Greater London,the Government paid regard to the rateand taxpayers' ability to pay for the accepted level of support. He said he was sure that this commended itself to most ratepayers.