Brigade's auto lube
5th December 1981
Page 11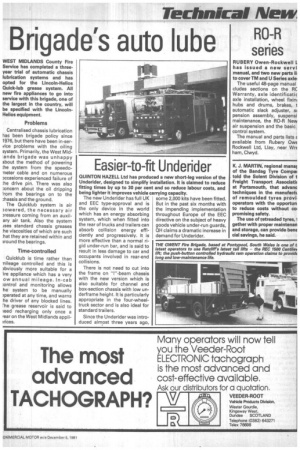 Page 11, 5th December 1981 —
Brigade's auto lube
Close
WEST MIDLANDS County Fire Service has completed a threeyear trial of automatic chassis lubrication systems and has opted for the Lincoln-Helios Quick-lub grease system. All new fire appliances to go into service with this brigade, one of the largest in the country, will be specified with the LincolnHelios equipment.
Problems Centralised chassis lubrication nas been brigade policy since 1976, but there have been in-service problems with the oiling system. Primarily, the West Midands brigade was unhappy about the method of powering he system from the speedometer cable and on numerous 3ccasions experienced failure of :he drive pin. There was also concern about the oil dripping :rom the bearings on to the 3hassis and the ground.
The Quicklub system is air )owered, the necessary air Nessure coming from an auxilary air tank. Also the system Jses standard chassis greases he viscosities of which are such hat they are retained within and )round the bearings.
Time-controlled Ouicklub is time rather than mileage controlled and this is claviously more suitable for a ire appliance which has a very ow annual mileage. In-cab ;antral and monitoring allows he system to be manually )perated at any time, and warns he driver of any blocked lines. he grease reservoir is said to leed recharging only once a rear on the West Midlands appliirices.