Dutch forklift is crisp for potatoes
5th December 1981
Page 10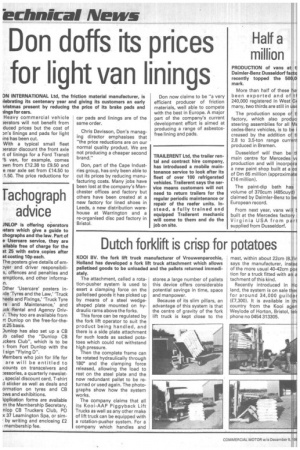 Page 10, 5th December 1981 —
Dutch forklift is crisp for potatoes
Close
K001 BV. the fork lift truck manufacturer of Vrouwenparochie, Holland has developed a fork lift truck attachment which allows palletised goods to be unloaded and the pallets returned immediately.
The attachment, called a rotation-pusher system is used to exert a clamping force on the palletised goods it has picked up by means of a steel wedgeshaped plate mounted on hydraulic rams above the forks.
This force can be regulated by the fork lift operator to suit the product being handled, and there is a side plate attachment for such loads as sacked potatoes which could not withstand high pressure.
Then the complete frame can be rotated hydraulically through 180° and the clamping force released, allowing the load to rest on the steel plate and the now redundant pallet to be re turned or used again. The photographs show how the system works.
The company claims that all its Kooi-AAP Piggyback Lift Trucks as well as any other make of lift truck can be equipped with a rotation-pusher system. For a company which handles and stores.a large number of pallets this device offers considerable potential savings in time, space and manpower.
Because of its slim pillars, an advantage of this system is that the centre of gravity of the fork lift truck is kept close to the mast, within about 22cm (8.7in says the manufacturer, instea of the more usual 40-42cm pos tion for a truck fitted with an a tachment of this kind.
Recently introduced in Ho land, the system is on sale ther for around 34,000 guilder (£7,300). It is available in thi country from the Kooi agen Weylode of Horton, Bristol, telt phone no 0454313305.