ONE HEARS
5th December 1922
Page 3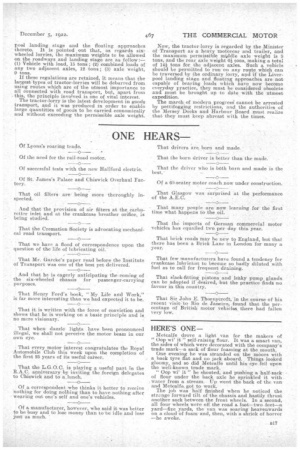 Page 3, 5th December 1922 —
ONE HEARS
Close
Of Lyons's roaring trade.
Of the need for the rail-road motor.
Of successful tests with the new Hallford electric.
Of St. James's Palace and Chiswick Overhaul Factory.
That oil filters are being more thoroughly inspected.
And that the provision of air filters at the Carburetter inlet and at the crankcase breather orifice, is being studied.
That the Cremation Society is advocating mechanical road transport.
That we have a flood of correspondence upon the question of the life of lubricating oil.
That Mr. Garcke's paper read before the Institute of Transport Was one of the best yet delivered.
And that he is eagerly anticipating the coming of the six-wheeled chassis for passenger-carrying . purposes.
That Henry Ford's book, "My Life and Work," is far more interesting than we had expected it to be. • That it is written with the force of conviction and shows that he is working on a basic principle and is, no mere visionary.
That when dazzle • lights have been pronounced illegal, we shall not perceive the motor beam in our own eye.
. That every motor interest congratulates the Royal Automobile Club this week upon the completion of the first 25 years of its useful career.
That the L.G.O.C. is playing a useful part in the R.A.C. anniversary by inviting the foreign delegates to Chiswick and to a.lunch.
Of a-correspondent who thinks it better to receive nothing for doing nothing. than to have nothing after wearing out one's self and one's vehicles.
Of a Manufacturer, however, who said it was better to be busy and to lose money than to-be idle and lose jUst as much.
That drivers are born and made.
That the born driver is better than the made.
That the driver who is both born and made is the best.
• 0Of a 60-seater motor coach.now under construction.
That Glasgow was Surprised at the performance of the A.E.C.
That many people are now learning for the first time what happens to the oil.
That the imports of German commercial motor vehicles has equalled two per day this year.
That brick roads may be new to England, hut that there has been a Brick Lane in London for many a year.
That few manufacturers have found a tendency for crankcase lubricant to become so badly diluted with fuel as to call for frequent draining.
That slack-fitting pistons and leaky pump glands can be adopted if desired, but the practice finds no favour in this country.
That Sir John E. Thornycroft,.in the course of his recentvisit, to Rio de Janeiro, found that the percentage of British motor vehicles, there had fallen very low.