Correspondence.
5th December 1907
Page 16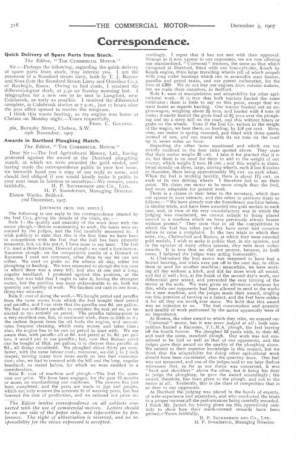 Page 17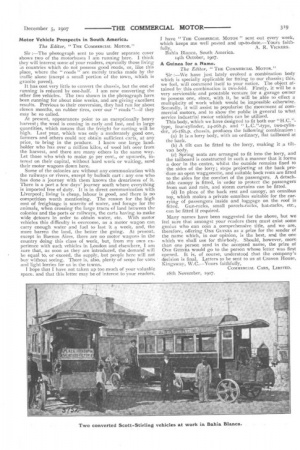 Page 16, 5th December 1907 —
Correspondence.
Close
Quick Delivery of Spare Parts Irons Stock.
The Editor, "THE COMMERCIAL MOTOR."
Sir :—Perhaps the following, regarding the quick delivery of spare parts from stock, may interest you. I am the possessor of a Standard steam lorry, built by T. J. Rayner and Sons (late the Standard Steam Lorry and Omnibus Co.), of Rayleigh, Essex. Owing to had roads, I strained the differential-gear shaft, at 3.30 on Sunday morning last. I telegraphed for a new one to be sent to Longford, near Colnbrook, as early as possible. I received the differential complete, at Colnhrook station at 7 p.m., just ii hours after the post office opened to receive the telegram.
I think this wants heating, as my engine was home at Chelsea on Monday night.—Yours respectfully, Faso. C. GotniNci, 36a, Burnaby Street, Chelsea, S.W.
29th November, 191)7.
Awards in Dartford Ploughing Match.
The Editor, "THE COMMERCIAL MOTOR."
Dear Sir :—The Ivel Agricultural Motors, Ltd., having protested against the award at the Dartford ploughing match, at which we were awarded the gold medal, and having made the correspondence public in your last issue, we herewith hand you a copy 01 Our reply to same, and should feel obliged if you would kindly make it public in your next issue in fairness to ourselves.—We remain, yours
faithfully, H. P. SAUNDERSON AND CO., LTD., H. P. Saunderson, Managing Director. Elstow Works, Bedford.
2nd December, 1907.
[EXTRACTS FROM THE REPLY.]
The following is our reply to the correspondence (started by the Ivel Co.), giving the details of the trials, etc. :—
Rule 1: the quality and quantity of the work dune with the motor plough.—Before commencing to work, the tanks were examined by the judges, and the fuel carefully measured in. I wish publicly to state that this is the first time we have been in competition with the Ivel that the fuel has been properly measured, but, on this point, I have more to say later. The Ivel Co, used a three-furrow, Howard plough ; we used a four-furrow, Ransome plough : on the comparative merits of a Howard or Ransome I need not comment, other than to say we can use either. We used no grabs on the wheels all day, either for ploughing or hauling. We were requested to plough the top cant in which there was a steep hill, and also at one end a long, angular headland. I protested against this position, at the time, but was told that I ought to take it, having the strongest motor, but the position was most unfavourable to us, both for quantity and quality of work. We finished our cant in one hour, thirty-two minutes.
Rule 2: cost of doing the work.—We bought petrol and paraffin from the same stores from which the Ivel bought their petrol and paraffin, and I can state that the paraffin cost 6d, per gallon. We had not sufficient paraffin to complete the task set us, so we elected to run entirely on petrol. The paraffin talking-point is a very excellent one, but, iii continued work, there is little in it ; the carbon deposit from the oil fouls the engine, and necessitates frequent cleaning, which costs money and takes time ; also, the engine has to be run on petrol to start with. We are aware that, with paraffin oil at Eid. and petrol at is. 6d. per gallon, it would pay to use paraffin ; but, now that Borneo spirit can be bought at 104d. per gallon, it is cheaper than paraffin at 6d., all things considered. We ploughed about thirty per cent, faster, with the same labour cost ; moreover, we did to r4' inch deeper, moving many tons more earth on less fuel consumption; also, we had to contend with the bill and the long, angular headland, as stated before, for which we were entitled to a consideration.
Rule 3: cost of machine and plough.—The Ivel Co. question our price. We have been engaged, for the past 12 months or more, on standardising our machines. The process has just been completed, and the parts are made to jigs and gauges, which not only ensures the accurate fit of wearing parts, but has lowered the cost of production, and we reduced our price ac
The Editor invites correspondence on all subjects connected with the use of commercial motors. Letters should be on one side of the paper only, and type-written by preference. The right of abbreviation is reserved, and no responsibility for the views expressed is accepted.
cordingly, I regret that it has not met with their approval. Strange as it may appear to our opponents, we are now offering our standardised, "Universal" tractors, the same as that which competed at Dartford, fitted with our four-cylinder, 6-inch by 6-inch engine, three large travelling wheels (all of which propel) with long roller bearings which run in renewable steel bushes, paraffin and petrol tanks, and our patent carburetter, for the sum of £380. We do not buy our engines from outside makers, but we make them ourselves, in Bedford.
Rule 4: ease of manipulation and adaptability for other agricultural work.—It is true that both tractors hauled the same cultivator ; there is little to say on this point, except that we went faster as regards hauling. Our tractor hooked out an engine-wagon, weighing about 2 tons, and loaded with 4 tons of roots; it easily hauled the gross load of 61, tons over the ploughing and up a steep hill on the road, and this without biters or grabs on the wheels. Even if the Ivel Co. reckon in the weight of the wagon, we beat them, on hauling, by 150 per cent. Moreover, our motor is spring mounted, and fitted with three speeds instead of one, and can travel with its six tons on the road up tn seven miles an hour, Regarding the other items mentioned and which are not strictly confined to the four rules quoted above. They state that their motor weighs 35 cwt. I take it for granted that it is so, but there is no need for them to add to the weight of our tractor, which weighs 2 tons 16 cwt. ; and this weight is distributed equally on three, large, driving wheels, each 3 feet 6 inches in diameter, there being approximately 184 cwt. on each wheel. When the Ivel is working heaYily, there is about 17i cwt. on each of its two driving wheels I therefore fail to see their point. We claim our motor to be more simple than the Ivel, and more adaptable for general work.
There is a clause in their letter to the secretary, which does not appear in your extracts, and this refers to previous trials as follows :—" We have already met the Saunderson machine before, in similar trials, and have been awarded two gold medals in each case, and, in view of the very unsatisfactory way in which the judging was conducted, we cannot submit to being placed second to a machine which we have previously always beaten without protest." They state that in all the competitions in which the Ivel has taken part they have never had occasion before to raise a complaint. In the two trials to which they refer, viz., Chelmsford and Boston, at which they were awarded gold medals, I wish to make it public that, in my opinion, and in the opinion of many others present, they were most 'unfair awards. It is true that we did not protest, because, in both cases, I believed the judges were acting honourably.
At Chelmsford the Ivel motor was supposed to have had a heated bearing, and trials were put off to the next day, to allow them to send for another machine; meanwhile, we were working all day without a hitch, and did far more work all round, and did it well ; but, at the finish of the second day's work, our differential gear seized, and prevented the easy turning of the motor at the ends. We were given no allowance whatever for this, while our opponents had been allowed to send to the works for a new machine, and the judges made their award, singling out this question of turning as a defect, and the Ivel have ridden it for all they are worth. ever "since. We hold that this award was an injustice to us. The fuel consumption and quantity and quality of work performed by the motor apparently were of no importance.
At Boston, the other award to which they refer, we entered our "Universal" motor, but it was never judged at all ; both competitors hauled a Ransome, Y.L.M.A. plough, the Ivel leaving off the fourth furrow. We ploughed 53 yards wide, to their 40, and used the same, standard plough. Our work was not considered to be laid so well as that of our opponents, and the judges gave their award on the quality of the ploughing alone. We submit to their superior knowledge in this respect, but we think that the adaptability for doing other agricultural work should have been considered, also the quantity done. Our fuel was not measured, and one of the judges said to me later (before witnesses) that, as far as our motor was concerned, it was. "head arid shoulders" above the other, but it being his duty to judge the ploughing, he gave the award accordingly ; the award, therefore, has been given to the plough, and not to the motor at all. Evidently, this is the class of competition that is so dear to our opponents.
At Dartford the judging was placed in the bands of experts, of wide experience and reputation, and who conducted the trials. in a proper manner,all the performances being carefully. recorded. I thank Mr. Jarrott for having given me this opportunity publicly to show how their much-coveted rewards have been gained.—Yours faithfully, H. P. SAUNDERSON AND Co., LTD.
H. P. SPunderson, Managing Director.
Motor Vehicle Prospects in South America.
The Editor, "THE COMMERCIAL MOTOR."
Sir :—The photograph sent to you under separate cover shows two of the motorbuses I am running here. I think they will interest some of your readers, especially those living ;n countries which do not possess good roads, or, like this place, where the " roads " are merely tracks made by the traffic alone (except a small portion of the town, which is granite paved).
It has cost very little to convert the chassis,. but the cost of running is reduced by one-half. I am now converting the other five vehicles. The two shown in the photograph have been running for about nine weeks, and are giving excellent results. Previous to their conversion, they had run for about
eleven months, on rubber tires, over our " roads they may be so called.
At present, appearances point to an exceptionally heavy harvest; the wool is coming in early and fast, and in large quantities, which means that the freight for carting will be high. Last year, which was only a moderately good one, farmers and others could not obtain sufficient carts, at any price, to bring in the produce. I know one large landholder who has over a million kilos, of wool left over from the harvest, and there are many others in the same way. Let those who wish to make so per cent., or upwards, interest on their capital, without hard work or waiting, send their motor wagons down here.
Some of the colonies are without any communication with the railways or rivers, except by bullock cart : any one who has done a journey with them knows the dreariness of it. There is a port a few days' journey south where everything is imported free of duty. It is in direct communication with Liverpool; living is cheap, labour is good, and there is no competition worth mentioning. The reason for the high cost of freightage is scarcity of water, and forage for the animals, when crossing the large tracts of land between the colonies and the ports or railways, the carts having to make wide detours in order to obtain water, etc. With motor vehicles this difficulty is overcome, as a motor wagon can carry enough water and fuel to last it a week, and, the more barren the land, the better the going. At present, except in Buenos Aires, there are no motor wagons in the Country doing this class of work, but, from my own experience with such vehicles in London and elsewhere, I am sure that, as soon as they are introduced, the demand will be equal to, or exceed, the supply, but people here will not buy without seeing. There is, also, plenty of scope for vans and light lorries for us in the towns.
I hope that I have not taken lip too much of your valuable space, and that this letter may be of interest to your readers.
have "THE COMMERCAL MOTOR" Sent out every week, which keeps me well posted and up-to-date.—Yours faith fully, A. R. VICKERS. Bahia Blanca, South America. f4th October, 1907.
A Guinea for a Name.
The Editor, "THE COMMERCIAL MOTOR."
Sir :—We have just lately evolved a combination body which is specially applicable for fitting to our chassis; this, we feel, will commend itself to your notice. The object attained by this combination is two-fold. Firstly, it will be a very serviceable and profitable venture for a garage owner to possess one, since, with it, he will be able to effect a multiplicity of work which would be impossible otherwise. Secondly, it will assist to popularise the movement of commercial motors, and to show the public in general to what service industrial motor vehicles can be utilised.
This body, which we have designed to fit both our "FI.C."type, four-cylinder, 24-26h.p. and " L.C."-type, two-cylinder, 16-18h.p. chassis, produces the following combination : (a) It is a lorry body, with an ordinary, flat tailboard at the back.
(b) A tilt can be fitted to the lorry, making it a tiltvan body. (c) Spring seats are arranged to fit into the lorry, and the tailboard is constructed in such a manner that it forms a door in the centre, whilst the outside remains fixed to the sides of the lorry ; steps projecting at the back produce an open waggonette, and suitable back rest S are fitted to the sides for the comfort of the passengers. A detachable canopy is fitted, in order to protect the passenger's from sun and rain, and storm curtains can be fitted.
(d) In place of the back rest and canopy, an omnibus top, which makes a private omnibus suitable for the carryingof passengers inside and luggage on the roof is fitted. Gun-racks, small parcels-racks, hat-racks, etc., can be fitted if required.
Many names have been suggested for the above, but we feel sure that amongst your readers there must exist some genius who can coin a comprehensive title, and we are, therefore, offering ONE GUINEA as a prize for the sender of the name which, in our opinion, is the best, and the one which we shall use for thisibody. Should, however, more than one person send in the accepted name, the prize of ONE GUINEA would go to the person whose letter was first opened. It is, of course, understood that the company's decision is final. Letters to be sent to us at Craven House, King,sway, W.C.—Yours faithfully,
COMMERCIAL CARS, LIMITED. 28th November, 1907.