Aveling & Porter (No. 2).
5th December 1907
Page 13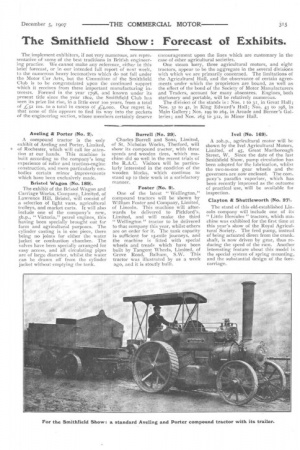 Page 14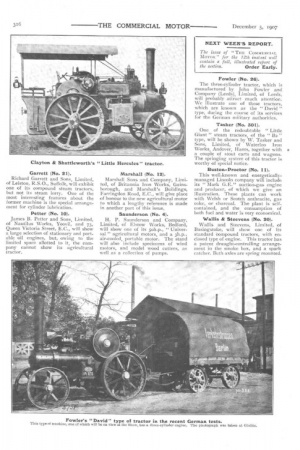 Page 15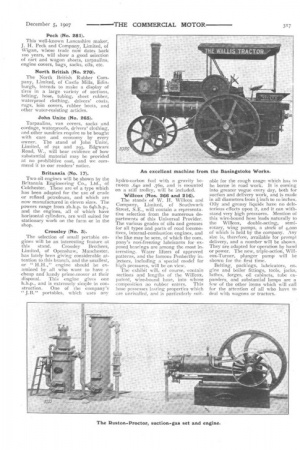 Page 13, 5th December 1907 —
Aveling & Porter (No. 2).
Close
Keywords :
Tractors
,
Agricultural Machinery
,
Steam Engines
,
Richard Garrett & Sons
,
Traction Engine
,
Charles Burrell & Sons
,
Steam Tractor
,
Clayton & Shuttleworth
,
Portable Engine
,
Marshall, Sons & Co.
,
Dan Albone
,
Business / Finance
A compound tractor is the only exhibit of Aveling and Porter, Limited, • of Rochester, which will call for attention at our hands. This machine is built according to the company's long experience of roller and traction-engine construction, and more particularly embodies certain minor improvements which have been exclusively made.
Bristol Wagon (No. 189).
The exhibit of the Bristol Wagon and Carriage Works, Company, Limited, of Lawrence Hill, Bristol, will consist of a selection of light vans, agricultural trolleys, and market carts. It will also include one of the company's new, Victoria," petrol engines, this having been specially brought out for farm and agricultural purposes. The cylinder casting is in one piece, there being no joints for either the water jacket or combustion chamber. The valves have been specially arranged for easy access, and all circulating pipes are of large diameter, whilst the water can be drawn off from the cylinder jacket without emptying the tank. Burrell (No. 29).
Charles Burrell and Sons, Limited, of St. Nicholas Works, Thetford, will show its compound tractor, with three speeds and wooden tires, which machine did so well in the recent trials of the R.A.C. Visitors will be particularly interested in the condition of the wooden blocks, which continue to stand up to their work in a satisfactory manner.
Foster (No. 9).
One of the latest " Wellington," compound tractors will be. shown by William Foster and Company, Limited, of Lincoln. This machine will afterwards be delivered to Fickfordls, Limited, and will make the third " Wellington " tractor to be delivered to that company this year, whilst others are on order for it. The tank capacity is sufficient for 15-mile journeys, and the machine is fitted with special wheels and treads which have been built by Tangent Wheels, Limited, of Grove Road, Balham, S.W. This tractor was illustrated by us a week ago, and it is stoutly built.
Ivel (No. 169).
A 2oh.p. agricultural motor will be shown by the Ivel Agricultural Motors, Limited, of 45, Great Marlborough Street, W. Since the date of the last Smithfield Show, pump circulation has been adopted for the lubrication, whilst the two-to-one gear wheels and the governers are now enclosed. The company's paraffin vaporiser, which has been recently improved as the outcome of practical use, will be available for inspection.
Clayton & Shuttleworth (No. 271.
The stand of this old-established Lincoln company will include one of its " Little Hercules " tractors, which machine was exhibited for the first time at this year's show of the Royal Agricultural Society. The feed pump, instead of being actuated direct from the crankshaft, is now driven by gear, thus reducing the speed of the ram. Another interesting feature about this model is the special system of spring mounting, and the substantial design of the forecarriage. Garrett (No. 21).
Richard Garrett and Sons, Limited, of Leiston, R.S.O., Suffolk, will exhibit one of its compound steam tractors, but not its steam lorry. One of the most interesting features about the former machine is the special arrangement for cylinder lubrication.
Petter (No. 10).
James B. Petter and Sons, Limited, of Nautilus Works, Yeovil, and 73, Queen Victoria Street, E.C., will show a large selection of stationary and portable oil engines, but, owing to the limited space allotted to it, the company cannot show its agricultural tractor.
Marshall (No. 12).
Marshall Sons and Company, Limited, of Britannia Iron Works, Gainsborough, and Marshall's Buildings, Farringdon Road, E.C., will give place of honour to the new agricultural motor to which a lengthy reference is made in another part of this issue,
Saunderson (No. 4).
H. P. Saunderson and Company, Limited, of Elstow Works, Bedford, will show one of its soh.p., " Universal" agricultural motors, and a 3h.p., air-cooled, portable motor. The stand will also include specimens of wind motors, and model wood cutters, as well as a collection of pumps.
Fowler (No. 26).
The three-cylinder tractor, which is manufactured by John Fowler and Company (Leeds), Limited, of Leeds, will probably attract much attention. We illustrate one of these tractors, which are known as the " David " type, during the course of its services for the German military authorities.
Tasker (No. 301).
One of the redoubtable " Little Giant " steam tractors, of the " B2 " type, will be shown by W. Tasker and Sons, Limited, of Waterloo Iron Works, Andover, Hants, together with • a couple of stout carts and wagons. The springing system of this tractor is worthy of special notice.
Ruston-Proctor (No. 11).
This well-known and energeticallymanaged Lincoln company will include its " Mark G.E." suction-gas engine and producer, of which we give an illustration. These plants can work with Welsh or Scotch anthracite, gas coke, or charcoal. The plant is selfcontained, and the consumption of both fuel and water is very economical.
Wallis & Steevens (No. 20).
Wailis and Steeyens, Limited, of Basingstoke, will show one of its standard 'compound tractors, with enclosed type of engine. This tractor has a patent draught-controlling arrangement in the smoke box, and a spark catcher. Both axles are spring mounted.
Peck (No. 281).
This well-known Lancashire maker, .1. H. Peck and Company, Limited, of Wigan, whose trade now dates back too years, will show a good selection of cart and wagon sheets, tarpaulins, engine covers, bags, sacks, oils, etc.
North British (No. 270).
The North British Rubber Company, Limited, of Castle Mills, Edinburgh, intends to make a display of tires in a large variety of sections, belting, hose, tubing, sheet rubber, waterproof clothing, drivers' coats, rugs, loin covers, rubber boots, and other water-resisting articles.
John Unite (No. 265).
Tarpaulins, van covers, sacks and cordage, waterproofs, drivers' clothing, and other sundries require to be bought with care and economy by every owner. The stand of John Unite, Limited, of 291 and 293, Edgware Road, W., will bear evidence of how substantial material may be provided at no prohibitive cost, and we commend it to our readers' notice.
Britannia (No. 17).
Two oil engines will be shown by the Britannia Engineering Co., Ltd., of Colchester. These are of a type which has been adapted for the use of crude or refined petroleum, and which are now manufactured in eleven sizes. The powers range from 2b.h.p. to 64b.h.p., and the engines, all of which have horizontal cylinders, are well suited for stationary work on the farm or in the shop.
Crossley (No. 5).
The selection of small portable engines will be an interesting feature at this stand. Crossley Brothers, Limited, of Openshaw, Manchester, has lately been giving considerable attention to this branch, and the smallest, or " H.H.," engine should be examined by all who want to have a cheap and handy prime-mover at their disposal. This engine gives one h.h.p., and is extremely simple in construction. One of the company's J.B." portables, which uses any
hydro-carbon fuel with a gravity between ,640 and .760, and is mounted on a stiff trolley, will be included.
Wilcox (Nos. 266 and 216). The stands of W. H. Willcox and Company, Limited, of Southwark Street, S.E., will contain a representative selection from the numerous departments of this Universal Provider. The various grades of oils and greases for all types and parts of road locomotives, internal-combustion engines, and the like may be seen, of which the com_ pany's non-freezing lubricants for exposed bearings are among the most interesting. Water lifters of approved patterns, and the famous Penberthy injectors, including a 'special model for high pressures, will be on view.
The exhibit will, of course, contain sections and lengths of the Willcox, patent, wire-bound hose, into whose composition no rubber enters. This hose possesses lasting properties Which are unrivalled, and is particularly suit able for the rough usage which has to be borne in road work. It is coming into greater vogue every day, both for suction and delivery work, and is made in all diameters from .1 inch to to inches. Oily and greasy liquids have no deleterious effects upon it, and it can withstand very high pressures. Mention of this wire-bound hose leads naturally to the Willcox, double-acting, semirotary, wing pumps, a stock of 4,000 of which is held by the company. Any size is, therefore, available for prompt delivery, and a number will be shown. They are adapted for operation by hand or power. The new, triple-action, Willcox-Turner, plunger pump will be shown for the first time.
Belting, packings, lubricators, engine and boiler fittings, tools, jacks, lathes, forges, oil cabinets, tube expanders, and substantial lamps are a few of the other items which will call for the attention of all who have to deal with wagons or tractors.