The Smithfield Show : Forecast of Exhibits.
5th December 1907
Page 13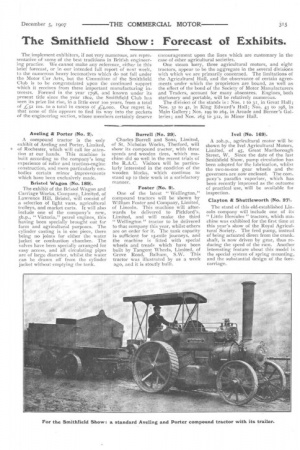 Page 13, 5th December 1907 —
The Smithfield Show : Forecast of Exhibits.
Close
The implement exhibitors, if not very numerous, are representative of some of the best traditions in British engineering practice. We cannot make any reference, cither in this brief forecast, or in our intended full report of next week, to the numerous heavy locomotives which do not fall under the Motor Car Acts, but the Committee of the Smithfield Club is to be congratulated upon the continued support which it receives from these important manufacturing interests. Formed in the year 1798, and known under its present title since the year 1802, the Smithfield Club has seen its prize list rise, in a little over too years, from a total
f £52 10S. to a total in excess of ..4,000. Our regret is, that none of this appears to find its way into the pockets of the engineering section, whose members certainly deserve
encouragement upon the lines which are customary in the case of other agricultural societies.
One steam lorry, three agricultural motors, and eight tractors, appear to be the aggregate in the several divisions with which we are primarily concerned. The limitations of the Agricultural Hall, and the observance of certain agreements under which the proprietors are bound, as well as
effect of the bond of the Society of Motor Manufacturers and Traders, account for many absentees. Engines, both stationary and portable, will be relatively numerous.
The division of the stands is : Nos. i to 31, in Great Hall; Nos. 32 to 42, in King Edward's Hall; Nos. 43 to 198, in Main Gallery; Nos. 199 to 264, in Arcade and Berner's Galleries; and Nos. 265 to 312, in Minor Hall.